Bristol's creativity and innovation has been championed at a major international gathering of civic leaders aimed at driving collaboration between cities across the world.
The 2019 Asia-Europe CICA (Creative Innovation Cities Alliance) Mayors' Summit, staged earlier this week in Gwangju, South Korea, brought together leaders from Europe and Asia – with West of England Mayor Tim Bowles addressing the event to showcase the region's strengths in creativity and innovation.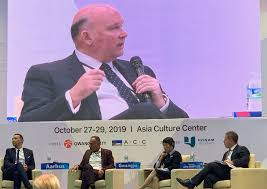 Mayor Bowles, pictured at the summit, drew on the collaboration across sectors in the West of England behind is imaginative, artistic and inspired solutions to challenges.
These include the 5G Smart Tourism project, which is led by the West of England Combined Authority (WECA) and has brought together university, creative, heritage and research partners, including the University of Bristol's Smart Internet Lab, the BBC, Aardman Animations and Bath's Roman Baths, to create new VR (virtual reality) experiences to enhance the region's visitor economy.
Mayor Bowles also joined other mayors at the two-day summit in signing a declaration setting out how they will collaborate to "…share their technology and know-hows related to creative industry through mutual cooperation for advancement of cities".
The declaration also said they would strive to "narrow the gap between cities for inclusive growth through open and sustainable innovation in the creative industry".
Mayor Bowles said: "The West of England is recognised nationally and internationally as a successful creative and innovative city region. This an important opportunity to further showcase our region, the fantastic work we are leading on, and the opportunities we offer on the world stage.
"The creative industries bring over £600m to the West of England; to support our continued prosperity, we want to work with innovative partners and forge alliances with other city regions who share our ambitions in creativity and innovation."
Mayor Bowles' trip was paid for by the summit organisers. The summit is the latest in a series of international events at which Mayor Bowles has championed the West of England's strong track record in creativity and innovation across a range of sectors.
The South Korean city of Gwangju is recognised as a laboratory of innovation in the field of media arts, with various initiatives bringing together artistic tradition, democratic values and human rights, hi-tech science and technology.
Its strong photonics industry and R&D district means the city has also become a hi-tech hotspot for science technology research while it also serves as a cultural and artistic hub for South West Korea. Media arts in Gwangju connect the city's contemporary art talents to cutting-edge technologies.