UWE Bristol animation student Ed Leicester has been selected for the finals of the national Royal Television Society (RTS)awards.
Ed has been nominated for his animation Heist in the Undergraduate Animation category. His film will be judged alongside fellow finalists from Falmouth University and Kingston University.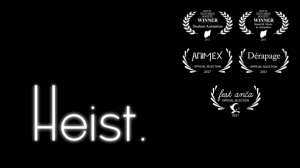 The awards ceremony takes place on Friday June 16 at the British Film Institute (BFI) on London's Southbank.
Ed, who had an internship at award-winning Bristol animators Wonky, took his inspiration from watching classic heist movies from the 1980s and 1990s, following the traditional storyline: plan, storming the bank, alarm triggers and police shoot out.
 "What is different about my film is that I have represented the story by using graphic motion effects, making it more abstract," he said.
"It was quite a challenge to complete the project in the time available to me as the entire film needed to be drawn by hand frame by frame. However, I did find this method of animation quite therapeutic."
He praised the teaching team at UWE Bristol. "It's been great – I found the guidance really helpful," he said.
"Mostly I worked from home, as I already own all the software I needed to make the film, but the university has been great at guiding me along the way and giving me some great opportunities, such as the internship.
"I am now planning to freelance for a few months to build up my animation portfolio. It has been amazing to reach the final round of the Royal Television Society awards – the other nominees' work is truly fantastic. I'm really looking forward to the ceremony."
UWE programme leader for animation Chris Webster said: "Ed is a talented animator and we are thrilled at his success in getting through to the final round. We are proud of the achievements of all of our talented students who performed brilliantly in the regional competition earlier this year."
UWE executive dean of the Faculty of Art, Creative Industries and Education, Prof Paul Olomolaiye, added: "We are very proud of Ed's achievement. His success is down to his talent and hard work and we wish him all the best in the awards later this month. The university is investing heavily in creative industries and we are looking forward to the opening of our new animation studios in the forthcoming academic year."
Find out more about studying animation at UWE here.