Construction of premium workspace scheme CARGO Work has started at Bristol's Wapping Wharf, adding employment to the vibrant Harbourside area's existing residential, leisure and retail offering.
The striking CARGO Work building will be set within the stone walls of the disused J S Fry warehouse, formerly part of the old Bristol Gaol, pictured, and provide room for up to 230 people across 20,270 sq ft of space.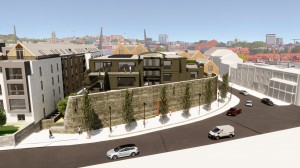 The latest in a stream of workspaces created in re-imagined buildings or locations around Bristol, CARGO Work will reflect its industrial dockside setting with its design in keeping with CARGO, the highly popular shipping container concept that houses many of the independent businesses at Wapping Wharf.
Sustainably clad in upcycled shipping container components, CARGO Work will feature a glazed courtyard canopy, balconies and terraces to all floors with views across southern Bristol.
The site, on the corner of Wapping Road and Cumberland Road, has stood empty for many years.
Preparatory works have already taken place on site with main construction works on the shell and core of the building now underway. The creation of the steel frame will follow next month.
Wapping Wharf has become an established and growing neighbourhood on what until less than a decade ago had been a derelict site.
It is widely recognised for its eclectic food scene and is already home to a range of independent shops, restaurants, cafes and lifestyle businesses.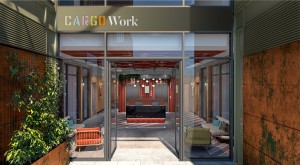 Stuart Hatton, managing director of Wapping Wharf developer Umberslade said: "We are thrilled that works are now progressing on CARGO Work, a completely unique concept that will create a stand-out working environment like no other, right in the heart of a thriving neighbourhood on Bristol's famous Floating Harbour.
"With its balconies and terraces offering impressive views and a modern, versatile working environment, CARGO Work has plenty to offer employers looking to prioritise well-being and flexibility by providing an attractive, inspiring, one-of-a-kind workspace.
"We are very excited about embarking on this exciting next chapter in the story of Wapping Wharf."
CARGO Work has been designed to be highly sustainable and low in energy use. Brise soleils prevent heat gain inside the building and photovoltaic roof panels take advantage of the building's sunny position to create solar energy.
It will include 47 secure bicycle racks and seven parking spaces, as well as EV charging provision.
The organisation or organisations which take the space at CARGO Work will have the opportunity to work with the developer to fit out and finish according to their own creative vision, resulting in a bespoke, tailored working environment.
Lambourn Commercial and Carter Jonas are joint agents marketing for CARGO Work, which is designed by the award-winning architects behind phase one and two of Wapping Wharf, Alec French, and is being constructed by award-winning and specialist contractor Halsall.
Damian Lambourn of Lambourn Commercial said: "What we are hearing from the market is that larger organisations are struggling to find unique, creative workspace that will support their strategy to attract and retain the best talent.
"CARGO Work will help meet this gap, providing 20,270 sq ft of cutting-edge offices to companies looking for a new home for 100 to around 230 employees."
Carter Jonas partner, commercial, Andrew Hardwick added: "CARGO Work has already generated a huge amount of interest. Wapping Wharf has been an enormous placemaking success, so it is no surprise that people want to work as well as spend their leisure time in this wonderful waterfront neighbourhood.
"CARGO Work combines a unique design with a high quality, contemporary working environment, offering something very special for occupiers."