Sustainable film and TV set-clearance firm Drèsd has become the latest business to set up an operation at Bristol's Bottle Yard Studios.
The innovative company, which offers a cost-effective alternative to sending set waste to landfill, is the 11th firm to join the burgeoning creative community at the Hengrove site.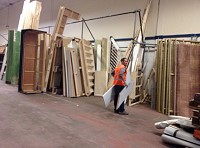 At 300,000 sq ft, the former wine bottling plant is the South West's largest dedicated film and television production facility. Since opening just over two years ago it has carved a name for itself in the UK film and TV production industry, attracting big-name productions and creating a vibrant supply chain of support businesses.
Pictured: Disused set parts at Drèsd's Bottle Yard base
Drèsd, which has its head office in Pinewood Studios and a warehouse in Essex, specialises in clearing sets, then repurposing, recycling and reselling the salvaged materials to production houses, event companies, interior designers and charities.
It also offers its own event production and office re-fit service using salvaged items – recent projects have included the annual Observer Ethical Awards and Huckletree, a co-working space in Clerkenwell, on the doorstep of East London's Tech City.
Drèsd's new Bristol base is the first time it has extended its business outside of the South East.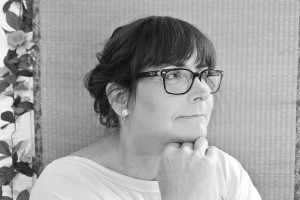 Drèsd founder Lynn McFarlane, pictured, said: "It's always been our intention to have regional bases located conveniently around the UK to service the demands of our customers, so to open a new centre at The Bottle Yard Studios so soon after moving into our new headquarters at Pinewood Studios is heartening for us as a business, and also speaks volumes about the growing demand amongst our domestic broadcast industry to deliver sustainable productions from concept to wrap."
Alongside its core work of clearing sets in a sustainable manner at the Bottle Yard, Drèsd will also offer a re-purposing prop house, design and build workshops for interiors and events, up-cycled set building, in-house creative workshops and training, as well as running apprenticeship schemes in conjunction with The Bottle Yard, local schools and colleges and Bristol City Council.
The firm joins a creative hub of on-site tenants at the Bottle Yard, providing incoming productions with creative, digital, technical, audio/visual, grips, transport and structural know-how, as well as fire and safety expertise.
Bottle Yard Studios managing director Fiona Francombe said: "We're so pleased to welcome Drèsd to our growing production hub. Sustainability in the broadcast industry is something we care deeply about, and having Drèsd on site permanently is a great boost to the studios' ongoing drive to reduce waste.
"Departing productions will be able to send less waste to landfill while incoming productions will have the chance to benefit from what is left behind by others. It's a win-win situation and one that helps us to reduce our carbon footprint."
In 2012-13 Drèsd recovered and repurposed 396.2 tonnes of film and TV set waste. It has recently cleared and repurposed sets for productions including The Lost Honour of Christopher Jefferies – which was shot at The Bottle Yard Studios in 2013 – BBC's The One Show, Les Miserables, Fast & Furious 6, Snow White, 47Ronin, The Hour, Anna Karenina, Gambit, Worlds End, About Time and I Give It a Year.
It has partnered with The Observer Ethical Awards for a number of years, using props and other recycled film and TV set materials to create the stages and set for the event.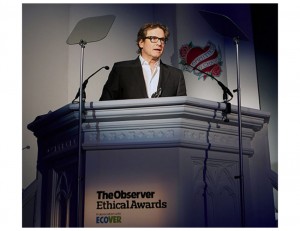 Pictured: Drèsd's design for The Observer Ethical Awards, right, used recycled set parts including a pulpit from Les Miserables, below
Sustainability in the film and television industry has been placed firmly on the agenda by industry leaders in recent years. The 2009 Green Screen report estimated that the UK screen industry generates 125,000 tonnes of emissions a year; 40% caused by studio emissions, 28% by film/TV production activities, 17% by locations shoots and 15% post production emissions.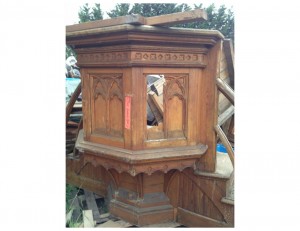 The BBC and BAFTA introduced a carbon calculator designed especially for the TV industry in 2010 which benchmarks the carbon emissions on TV productions and a new British Standard for sustainability in film, BS 8909, was announced in 2011.
* Channel 4 comedy The Mimic, which based production at The Bottle Yard Studios, has returned for a second series.
The team behind the heart-warming comedy spent six week at the studios and shoot across Bristol in January and February. Locations for the six part series included South Bristol Crematorium, Blaise Estate, St George's Park, Mina Road Park and Brecknock Road
Line producer Stephen Abrahams said: "Being based at The Bottle Yard Studios was a great help – with the whole team in their offices and stores, all together under one roof. It was a joy to have everyone working alongside one another. The support of Fiona and her Bottle Yard team, and the help of everyone at Bristol Film Office, was key."
Last month it was confirmed that Disney's ABC Studios are to shoot major US network TV series Galavant at The Bottle Yard Studios later this summer. Other productions currently filming there include BBC Two drama Wolf Hall, made by Company Pictures/Playground starring Damian Lewis and Mark Rylance; BBC One drama Poldark made by Mammoth Screen starring Aidan Turner and Eleanor Tomlinson; series four of Sky 1 HD comedy Trollied with new cast additions Stephen Tompkinson and Miriam Margolyes; and long-running Channel 4 gameshow Deal or No Deal made by Endemol.