Innovative Bristol-based agri-tech firm LettUs Grow is seeking support from the city's business community as it competes for the People's Choice Award in the prestigious Pitch@Palace final.
The firm, which is supported by Bristol's world-beating incubator SETsquared, is developing integrated hardware, software and high-value research capabilities for use by the indoor farming industry.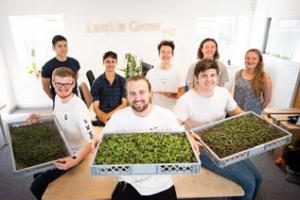 It uses advanced systems for growing plants without soil, known as aeroponics, which are backed up by patented software. The vertical farm-tech business has already secured £1m in funding and won SETsquared Bristol's Tech-Xpo 'Best Pitch' award, as well as 'Best Tech Start-Up' by Vodafone Techstarter awards.
Winning the prestigious People's Choice Award will give it an opportunity to secure the next round of investment to support its work in increasing food production and security, as well as reducing greenhouse gas emissions, waste and ecosystem collapse.
Founded by the Duke of York in 2014, Pitch@Palace helps entrepreneurs and early-stage businesses connect with potential supporters, including CEOs, influencers, investors, mentors and business partners.
Entrepreneurs from across the UK pitch at regional 'Pitch@Palace On Tour' events, with 42 winners going on to Pitch@Palace Boot Camp.
From there, 12 winning entrepreneurs are selected by a panel of judges to deliver a three-minute pitch to an influential audience at St James's Palace next Wednesday. The remaining 30 companies each get a 30-second slot to pitch. The winner is announced at the event.
The People's Choice Award is an opportunity to showcase the entrepreneurs to a broader audience and for the public to learn more and vote for their favourite.
To vote for LettUs Grow, visit https://peopleschoice.pitchatpalace.com/entry/452/lettus-grow
LettUs Grow co-founder Jack Farmer said: "Winning the People's Choice Award would provide us with much-needed exposure to individuals who can help us scale-up and make an impact within our industry, solving the problem of resilient food production in the face of an unstable climate.
"SETsquared has really guided us throughout this whole process so we can't thank the Partnership enough for supporting us in the lead up to the final round of the Pitch@Palace competition."
SETsquared Bristol centre director Monika Radclyffe said: "LettUs Grow is making huge strides in overcoming sustainability, food production and efficiency issues in the agricultural industry, but they need support to continue making an impact.
"Pitch@Palace is the ideal platform to get in front of high-profile individuals who can take their business to the next level, so this is a really exciting opportunity for Jack and the team."
The SETsquared Partnership, which is supported by a number of UK universities, including the University of Bristol, is an award-winning and world-leading business incubator and start-up accelerator network which has supported more than 3,500 technology-based organisations through their lifecycle. As well as running seven of its own support programmes for members, SETsquared helps businesses identify other opportunities to access high-level support.
Winners of the Pitch@Palace competition will go on to compete in the global competition in December.