Bristol-based technology-focused investment bank ICON Corporate Finance has opened an office in San Francisco to capitalise on merger & acquisition and investment opportunities between the UK and US.
ICON acts exclusively for innovative tech companies across the globe, securing funding and realising maximum value when they come to sell.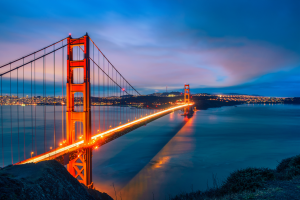 The San Francisco office will bring its clients access to the world's tech and deal hub of Silicon Valley.
ICON, which led US-based US healthtech firm IQVIA's acquisition of Swindon-based Optimum Health Technology and JP Morgan's funding of UK-based Mosaic Smart Data, has appointed former industry analyst at US technology industry research firm 451 Research and datatech expert Ben Kolada as head of US tech investment banking.
Ben, pictured, has more than a decade of experience in the sector and a deep knowledge of the West Coast and US markets.
The opening of the US base means ICON, which was founded in Bristol in 1999, now also has offices in London and San Francisco along with a multi-lingual team that has brought its clients access to deals across Europe, Africa, the US and Asia. 
The new office opens at a time of accelerating digital transformation across all industry sectors. ICON believes this is the most pressing priority for organisations in the aftermath of the Covid-19 pandemic – triggering future growth and an appetite for the acquisition of tech companies worldwide.
This assessment is underpinned by a recent survey of some of the most active UK merger & acquisition buyers carried out by ICON.
It forecasts no drop in appetite for acquisition in the tech sector this year, with key areas for expansion expected to be in fintech, cloud, managed services, healthtech, cybersecurity, AI and enterprise software.
It also shows that the US tech market, in particular, will continue to be among the most acquisitive with its companies continuing to seek out the deep tech and disruptive young companies that are reshaping the world as organisations adapt to new ways of working.
ICON founder and CEO Alan Bristow said: "As the world discovers the new normal, it is the tech sector that will drive societal changes and the way we work.
"Its innovative approach, and the dominance of the US West Coast in deals origination, is the driver for our new presence in San Francisco. We are excited to be providing the businesses of the SW region closer access to the world's most vibrant and prolific M&A and funding market."