The UK tech sector shrugged off the impact of the economic slowdown and Covid pandemic last year to achieve the second highest number of mergers and acquisition, according to new research from Bristol-based tech-focused investment bank ICON Corporate Finance.
Some 972 deals were announced despite a backdrop that also included the war in Ukraine, falling equities, the highest inflation in 40 years, supply chain gridlock and a jump in interest rates.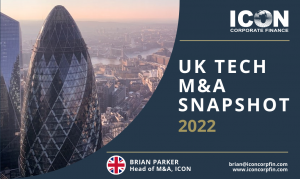 While the number of deals was down by 9% compared with 2021, it was up 9% compared with 2019 (pre- Covid). Smaller and mid-cap deals proved particularly resilient, ICON reveals in its newly published UK Tech M&A Snapshot 2022.
Foreign and PE-backed acquirers were key factors, responsible for 43% and 31% of all acquisitions respectively.
The most active acquirer was Access Group, followed by Babble and Clearcourse, as private equity-funded businesses continued their buy-and-build spending spree.
While total deal valuations weakened as investors became more risk averse, seven of the top 10 deals were still valued at greater than 5x revenues.
The number of UK unicorn companies continued to increase, with 10 tech businesses such as Payfit, Multiverse, Spectrum and Beamery joining the cohort – all with a focus is dominated by FinTech and Artificial Intelligence.
Meanwhile, the wave of de-listings continued with the loss of 15 companies, including majors such as Micro Focus, Aveva and Ideagen.
The IPO market was essentially closed last year, the snapshot concludes – with appetite close to a decade low.
Report author and head of M&A at ICON, Brian Parker, said: "The world has had no shortage of twists and turns in the past few years with Brexit, Covid and an alarming jump in inflation.
"So, it may be unexpected for many to learn in our report that 2022 was the second-best year ever for the number of UK Tech M&A deals.
"With strong ongoing demand for digital transformation and AI, a weak currency and plenty of private equity cash, we remain positive about UK tech M&A.
"ICON starts the year with a busy M&A pipeline and several deals in due diligence. But no doubt the 'year of the rabbit' will be full of surprises!"
The report is the latest in a series by ICON. The firm, which also has offices in London and San Francisco, has closed more than 250 deals since its launch in 1999 and boasts a global network of relationships alongside deep tech industry expertise.