A housing association is aiming to combat loneliness and help with mental health issues among its residents by giving them Bristol-built robots.
Service Robotics has signed a 12-month contract with Cornwall Housing to provide 10 of its specially designed GenieConnect support robots, pictured, to help people live independently in its homes.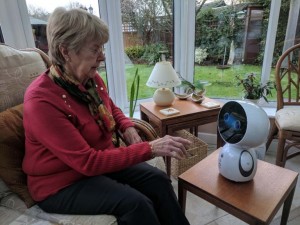 The robots will act as personal companions by enabling residents to make video calls to family members and loved ones, carers and healthcare professionals – the so-called circle of care that is a key element in combatting feelings of loneliness.
Residents will also be able to seek support and assistance easily and directly with general activities of their daily lives through basic voice commands.
Service Robotics, which is based in UWE's Future Space tech incubator on UWE's Frenchay Campus,  is also working with care provider Cornwall Care to provide a GenieConnect to one of its service users, Adam, who has learning disabilities.
Adam, who is in his late 30s, has been using a GenieConnect to help him remember to take medication and perform daily self-care tasks.
He also uses the robot as a companion to talk to, to help him access entertainment media such the radio or to access streaming services.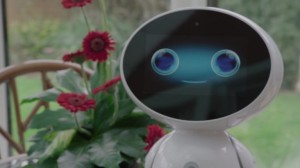 The robot has a mood capture feature which checks in with him to ask how he feels, helping to track his mental health status.
Some 53% of disabled people report feeling lonely, rising to 77% for young disabled people, while 1.4m older people in the UK are often lonely.
The agreement with Cornwall Housing follows a successful pilot programme that trialled 10 GenieConnects between September and November last year.
Cornwall Housing reported far-reaching benefits from the trial, which helped break down communication barriers, particularly in properties where some adults were being supported to live independently who were at risk of feeling alone and isolated.
The agreement with Cornwall Housing was finalised during Mental Health Awareness Week and forms part of Cornwall Housing's isolation prevention strategy.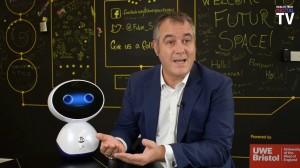 Service Robotics CEO and founder Rob Parkes, pictured, said: "Our GenieConnect robots have been designed to offer valuable support for a range of tasks and offer easy access to speak to someone who can assist them.
"They also act as a friendly and supportive companion at a time when loneliness is at epidemic levels in the UK and has a dramatic impact on our mental health.
"This partnership with Cornwall Housing is showing how we can use technology to support people at risk of loneliness and in turn prevent deterioration in mental health.
Cornwall Housing independent living service manager Nyree Laugharne, who manages the initiative with Service Robotics, added: "This is a great initiative for our users who need support to be able to live independently, often on their own.
"The GenieConnect trial showed us that our residents gained so much more than a way of accessing our support teams.
"We're always looking for new ways to provide support and we know loneliness is a major issue for many people and this is one part of an overall effort to combat an issue which often goes hand in hand with a deterioration in mental health."
Service Robotics is running a crowd funding campaign via Crowdcube, inviting the public to invest in the company as it expands.
The campaign has a target of £175,000 and closes at the end of this month.