The operator of Bristol's newest hotel, the Clayton Hotel Bristol City, has appointed Alison Mansfield as general manager in a move she described as 'like coming home'.
Although originally from Dublin, Alison, pictured, centre, outside the hotel, has strong links Bristol and so was delighted when the 255-bedroom venue's operator Dalata Hotel Group announced it was to open in the city.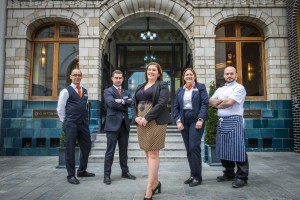 The four-star hotel has been built behind the iconic unique art nouveau façade of the Grade ll listed former Edward Everard's Printing Works on Broad Street.
The building also includes the former 1970s former NatWest Court building, which extends through to Nelson Street.
Alison, who has experience of launching new hotels after previously moving to Wales to help open the Clayton Hotel Cardiff, said: "I have always wanted to move to Bristol. My husband is a Bristolian so it really feels like my roots are here.
"I had been asking Dalata to open a hotel in the city for nine years so was thrilled when I was appointed general manager.
"I love this city and am fascinated by its history. The city itself is developing a real reputation as the perfect place for a weekend break due to the great food and drink on offer and of course the wonderful humour and warmth of the local people.
"And where else can you look up and see hot air balloons overhead?"
Alison, who has worked in hospitality for 25 years, initially wanted to be a chef.
"I loved the busy environment and meeting new people but discovered I was better placed out of the kitchen," she added.
"I instead decided to enrol for a trainee manager programme and in 2009 I started working for Dalata in central reservations.
"I then moved to Cardiff to help with the hotel opening there before moving back to my hometown of Tallaght in Dublin for my first general manager position with the company.
"After a spell in Dublin I moved back to the UK to work in Cardiff and I am delighted to have now taken up the general manager's position in Bristol. It really feels like a homecoming."
Dalata, the largest hotel operator in Ireland, invested £50m investment in developing the Clayton Hotel Bristol City, which is its 17th in the UK.