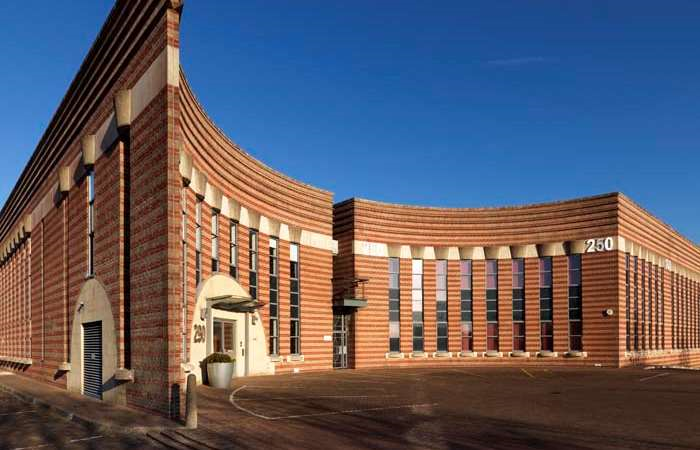 Bristol's historic listed structures such as the Cathedral, St Mary Redcliffe and Clifton Suspension Bridge have been joined by a new addition – a 1980s office complex at Aztec West.
The offices – numbers 210, 220, 240, 250, 260 and 290 Park Avenue – have been chosen by Historic England as one of 17 examples of British post-modern architecture and awarded a grade II listing.
Designed by pioneering London-based post-modernist architects CZWG and built between 1987 and 1988, the office complex marks a conscious departure from earlier hi-tech buildings, according to Historic England.
The organisation, which recommends buildings for listing, said the Aztec West office complex's architectural interest came from being "a good example of a commercial development in the post-modern style, combining bold geometries, polychromy and traditional materials to dynamic effect".
It also has historic interest as "a flagship commercial development on Aztec West, a pioneering example of a post-industrial business park".
The building is made up of two square blocks with inner courtyards and circular entrance courts. It has a steel framework and is faced with red and buff bricks and pre-cast concrete elements.
Historic England said: "The landscaped circular entrance courts were based upon the turning circle of a car, celebrating the form of transport that enabled the out-of-town workplace."
Among the other 17 post-modern buildings listed by Historic England are flats on the Isle of Dogs in London and warehouses in Slough.
Their style, according to The Guardian arts correspondent Mark Brown is "bold, bright and often witty architectural style which, like Terry and June or The Police, is very 1980s and has always divided opinion".
According to Historic England: "Post-modernism, a movement and a style prevalent in architecture between about 1975 and 1990, is defined in terms of its relationship with modern architecture. Post-modernist architecture is characterised by its plurality, engagement with urban context and setting, reference to older architectural traditions and use of metaphor and symbolism.
"As a formal language it has affinities with mannerism (unexpected exaggeration, distortions of classical scale and proportion) and the spatial sophistication of Baroque architecture. Post-modernism accepts the technology of industrialised society but expresses it in more diverse ways than the machine imagery of the contemporary hi-tech style."
Bristol has 100 Grade I listed and 212 Grade II listed buildings. Three years ago the 1970s former Central Electricity Generating Board building at Bedminster Down, now called The Pavilions, was awarded a Grade II listing as one of the most important office buildings of its era.