High streets and retail centres can survive the onslaught of online rivals if they adapt by offering 'experiences' as well as shopping, a panel of experts told the Bristol International Balloon Fiesta Business Breakfast.
More than 200 members of the city's business community gathered for the annual event, staged by law firm Thrings and Business West – despite adverse weather conditions meaning the accompanying early-morning balloon ascent was grounded.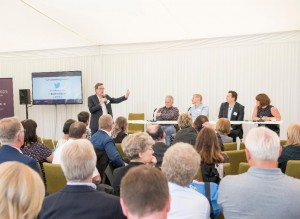 The debate heard a range of views on the future of the high street in the light of multiple store closures that has left many in the retail sector questioning the traditional role of shopping centres.
But Destination Bristol chief executive John Hirst – an expert in retail regeneration – told the audience: "The high street will survive. We have to work hard with partners to create the stage  – the high street – for the performers – the retailers.
"We need to get two basic things right – safety and cleanliness. That's the same as it has already been. Building on that, these spaces need to provide experiences to attract people to our city centres."
On the panel with him was Shelley Sturdy, brand experience manager at John Lewis, who has worked for the retail giant for 26 years, where she has been driving experience-led and experimental retailing.
She said: "While 40% of our business is now online, there are many things you wouldn't want to do through a website. It's about retail reinvention.
"Malls are asking 'What can we do to get people in? Have we got the right restaurants, can you have your nails done?'
"Dwell time is really important. The response to Cribbs Causeway's beach has been great this summer and John Lewis is getting people through the door by offering experiences, whether events, personal styling or our new approach to beauty counters."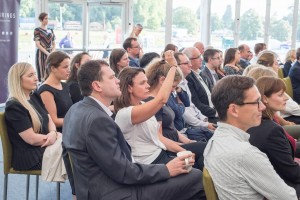 Phil Maclean, marketing director and expert in 'destination retail' at Eagle One, the property portfolio company that owns shopping centres and retail parks across the South West, said: "To get buy-in from shoppers requires real authenticity. This means embarking on more than tokenistic efforts that might get a retailer through the next 12 months. A whole change in approach from leadership through to all levels of a company is needed.
"Another issue is accessibility. The UK loses out on £267m of retail revenue per month because the high street is not accessible. That's why we're putting disability and invisible disabilities at the core of our retail experience."
Also on the panel was Nigel Jobson, commercial director at Maybe*, a tech company transforming social media conversations into footfall for retailers.
He said: "On average 98% p of national brands don't talk about place. Imagine if every major brand localised their social media to drive people to the store rather than their websites. The impact on the high street would be phenomenal. You wouldn't build a shopping centre without roads, and it should be the same for digital."
Maybe* is one of the companies selected to contribute to the UK Government's High Street Task Force.
James Durie, Chief executive of Bristol Chamber of Commerce at Business West and a balloon fiesta business member, said: "The future of the high street is something that concerns businesses far and wide, so we are pleased to have gotten under the skin of some of the issues this morning. We heard some great ways to inject new vibrancy into towns and cities, and hope the debate enabled people to think about new opportunities to add value to Bristol and the wider region."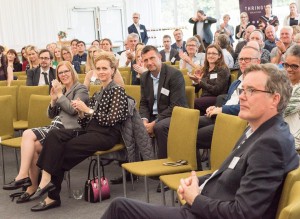 Bristol-based Thrings partner Robert Barnes, who sits on the Balloon Fiesta organising committee, added: "Our Business Breakfast at the Bristol International Balloon Fiesta is the highlight of our event calendar and delivered – yet again – another magnificent debate tackling a big issue for cities and towns across the country.
"Thrings is extremely proud to be continuing its association with the balloon fiesta, which injects millions of pounds into the local economy. As we saw today, there is huge enthusiasm for the fiesta amongst the business community and I would encourage getting in touch to find out more about membership, networking and sponsorship opportunities."
Thrings has been involved in the balloon fiesta for a number of years and was made official legal partner last year.