An ambitious plan to tackle poverty and close the inequality ethnic gap in Bristol was officially launched this week with a plea to businesses to get involved and end what it calls a "divided city".
OurCity2030 aims to get young people from low-income households, starting from inner-city Bristol, into median salary earning jobs by 2030.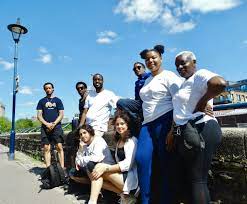 The vision is the conclusion to a report is based on two years of painstaking research, planning and consultation into how a city judged to be the seventh worst in the UK for inequality and with an ethnic employment gap twice the national average can move forward.
The plan, spearheaded by Queen's Award for Enterprise-winning Bristol youth empowerment group Babbasa and Bristol City Council's City Office, was formally unveiled this week by Mayor Marvin Rees.
Speaking to nearly 400 people at the launch hosted at University of Bristol in the Wills Memorial Building, he said it was a "real tragedy" that so many young people were unable to fulfil their potential in the city because of the way society operated.
"We are leaving billions of pounds of talent undiscovered on the shelf every year because of this," he said. "You wouldn't run an organisation like that.
"The OurCity2030 vision and programme will serve as a key driver to achieving the goals of the One City Plan.
"A fairer future for young people in Bristol is key to future success as a city and I'm incredibly excited to see this blueprint launch.
"I look forward to Bristol further leading the way in driving equality as we move into 2023."
The report, based on research by the Bristol office of international design and engineering firm Arup, benchmarks the size and scale of the inequality gap in the city and its link with poverty.
It will now be used as the basis for developing evidence-based policies and interventions. The report concludes that there is an employment gap for both young and working-age ethnic minorities compared to their white peers.
It also reveals that:
More than 60% of ethnic minorities in Bristol live in areas of economic disadvantage (Bristol City Council Ward Data, 2018).

The lack of role models, lack of diversity of ethnicity of senior staff, and curriculum delivery and design are some of the contributing factors to the ethnicity attainment gap.

Nationally Ethnic Minority groups see a larger pay gap develop as they progress their career seniority in later adulthood

48.1% of young people surveyed by Babbasa don't know the skills they need to improve or develop for their career ambitions.

Around 80% of employers state "unconscious bias" as a barrier for Black and Minority Ethnic individuals to access jobs, alongside a "lack of social or professional networks" and "discrimination". This matches roughly with Black and Minority ethnic individuals citing "lack of connections to the right people", "discrimination", and "lack of role models".
Babbasa founder and CEO Poku Osei said Bristol was often seen as a progressive and creative city with a high standard of living and strong environmental credentials.
However, this could not be further from the truth and for residents of Bristol's inner city areas poverty and attainment levels are some of the worst in the UK.
"We are a city divided where the gap between the 'haves' and 'have nots' is in stark contrast to the public profile of the city," he said.
"Sadly, if you are in an ethnic minority group in the city you are more likely to be unemployed or employed in a low-paying job than white people in Bristol. We think we can change this with OurCity2030 – the first initiative of its kind anywhere in the UK."
A number of Bristol businesses have already pledged involvement in OurCity2030 through sponsorship of the programme, including catering equipment group Nisbet's trust, event technology firm Pytch Studio and Silverback Films, the world-leading independent producer of natural history programmes.
Bristol PR agencies Purplefish and Ambitious, publishing group Our Media, festival and event production firm Team Love, audio visual equipment hire business SLX and creative consultancies McCann Bristol and McCann Synergy are also supporting the plan.