Regional law firm Michelmores has appointed head of corporate Richard Cobb as its new senior partner.
Richard, pictured, succeeds Andrew Oldland QC, who has served as the firm's senior partner for four years. At the time of his appointment Andrew was the first barrister to hold the role of senior partner in a Top 100 law firm.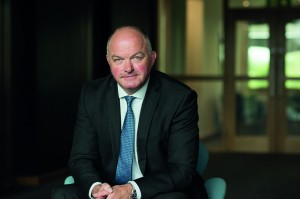 Richard joined Michelmores, which has offices in Bristol, Exeter and London, in 2010 from Bond Pearce (now Womble Bond Dickinson), where he was a partner in the corporate finance team and led the AIM (Alternative Investment Market) team.
He previously spent nearly three years as head of legal and company secretary at FTSE-listed tech and IP business Virtual Internet, having trained and worked at law firm Olswang in London (now CMS) for almost a decade.
Richard will continue to lead Michelmores' corporate team, where he specialises in merger and acquisition (M&A) transactions and technology and private wealth sector work.
He advises clients across the UK and internationally, with a particular focus on entrepreneurs and complex privately-owned businesses.
Richard said: "It is a privilege to be taking on the role of senior partner at Michelmores at such a transformational time for us and our clients.
"I believe that the professional firms that work hardest to adapt and really understand and support their clients in these challenging times will emerge with the strongest reputations.
"I look forward to playing a role in helping our clients to thrive, as well as helping to ensure that Michelmores remains a great firm for ambitious and talented professionals at all levels to grow their careers."
Michelmores managing partner Tim Richards added: "Andrew Oldland QC took on the position of senior partner in 2017 and has been fantastically supportive throughout his tenure.
"He is extremely well respected in his field and has been a driving force behind the continued success that we have seen as a firm over the last four years.
"I am very pleased to welcome Richard to the role of senior partner and look forward to working with him as we continue to develop our business."
Michelmores' Bristol office has 20 partners and more than 50 specialist lawyers handling legal services across a range of sectors, including real estate, construction, agriculture, corporate and private wealth.