West-based chartered accountancy firm Milsted Langdon has been named the UK's Best Large Practice for the third year running.
The firm, which has offices in Bristol, Bath, Taunton and Yeovil, won the title at the prestigious AccountingWEB Practice Excellence Awards held in London last week.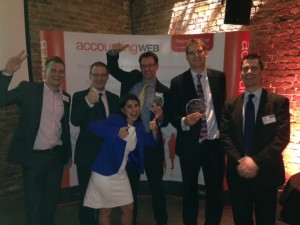 Milsted Langdon became the first UK firm to chalk up two successive wins last year so achieving the hat-trick is a notable achievement. The firm was shortlisted as a result of direct surveys with its clients.
Pictured: The Milsted Langdon team celebrate their award victory
Partner Rob Chedzoy, who accepted the award on the night, said: "This success is made even more gratifying by the fact it was determined on feedback from our own clients. On behalf of everyone at the firm, I would like to thank our clients for their kind words and our team for their hard work and dedication in ensuring that we receive such positive feedback in the first place.
"We now look forward to building on our achievements and, of course, defending our title again next year."
Milsted Langdon was also recently named as a finalist in the forthcoming British Accountancy Awards.