Musicians and music lovers are invited to join Bristol's best blues and jazz jam night, which relaunches next week.
Taking place at Harveys Cellars, Denmark Street, on the first Tuesday of every month, the event will offer an unparalleled opportunity to jam with a talented house band and guest musicians.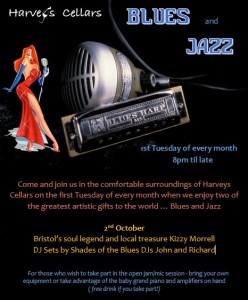 To kick off the new season, Bristol soul legend and local treasure Kizzy Morrell will join the jam while Ujima Radio DJs John Banks and Richard Levinge, presenters of the station's Monday night Shades of the Blues show, will play classic blues and soul.
The event, staged in association with Ujima Radio and Bristol Business News, is open to anyone who wishes to take part – whether they bring their own equipment or not. Each performer will get a free drink. The event lasts from 8pm until late.
For more information, go to www.harveyscellars.co.uk or email info@harveyscellars.co.uk