Chris Grazier, partner in charge of office agency at Bristol property agents Hartnell Taylor Cook, has been named as the new president of the Bristol Property Agents Association (BPAA).
Chris, pictured, who succeeds JLL director Paul Baker in the role, took over at last night's BPAA annual dinner. He has spent the past six years as the association's treasurer.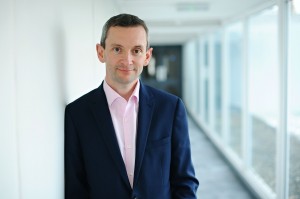 Formed in 1946, the BPAA is the collective voice of property agents in greater Bristol and applies its expertise and experience to inform discussions and decisions that impact on the city's future.
Its members are drawn primarily from commercial property lawyers, developers, architects, planners, building and quantity surveyors.
Chris, who has spent his working life in Bristol and the wider South West, said: "I would like to thank Paul for his outstanding efforts during his time as president, which has seen the BPAA go from strength to strength in the influence our industry can have.
"The BPAA is a great organisation to be part of, and I've been proud to serve on the committee  as treasurer – a spell that has given me great insight into the range of events supported, and the good we can do for our industry and for the wider city.
"As an organisation, our role is both professional and social, and over the next year I hope that we can continue to play a part in shaping the progress of the Bristol for the greater good, while hopefully being able to provide some direction as business gets used to dealing with Brexit."
Each year the incoming BPAA president selects charities that the association will support over the 12 months they are in office. Chris's chosen good causes are Southmead Hospital Charity and the Soil Association.
"Southmead Hospital Charity directly supports the efforts of Southmead Hospital, Cossham Hospital and community health facilities across Bristol, South Gloucestershire and North Somerset. Support for the charity powers groundbreaking medical research and helps provide specialist equipment that will improve treatment for generations to come," he said.
"The Soil Association is a Bristol-based organisation I have known professionally for 15 years. The charity's overall aim is providing a greener, healthier food and farming future and over time its challenges have changed markedly – in recent times it has emerged as a leading, progressive voice in the debate around how we deal with climate change, supporting a better future for all. I look forward to supporting both these excellent organisations."
Chris has 21 years' experience as a chartered surveyor specialising in the South West office sector, spanning agency, development, investment and asset management.
He is in charge of Hartnell Taylor Cook's office agency team, whose notable clients include Cubex Land, UK & European, St Martin's, BAM Properties, Goodman, CBRE Investors, LaSalle Investment Management, Bevan Brittan Solicitors, the Soil Association and Deeley Freed.