Bristol-based interior design practice and workplace consultancy Harmsen Group has significantly expanded by bringing London practice Tilney Shane into the group.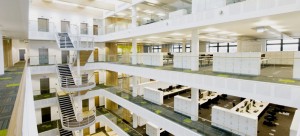 The amalgamation with Tilney Shane will allow Harmsen, established in Bristol nearly 20 years ago, to better service new and existing clients with a wider geographical reach.
Harmsen has undertaken projects for some of Bristol's most prominent occupiers including award-winning schemes for the Environment Agency, pictured, Hargreaves Lansdown and Triodos Bank.
The firm's success in London, where it has an office, and the South East has been consolidated in recent years with work for clients including Sport England, Colliers International and leading solar energy company Solarcentury.
The merged practice will be called Harmsen Tilney Shane and will be headed by existing Harmsen managing director Nick Fletcher. Steve Hutton who established Harmsen's London presence continues to lead the London office, in collaboration with former Tilney Shane directors Andrew Bartlett and Carl Fisher. Antony Wild continues as operations director with Jon Wilson as creative director.
Mr Fletcher said: "The combination of Harmsen and Tilney Shane is an incredibly exciting chapter in our development. We see this alliance as an opportunity to bring together the expertise and success of both companies and create dynamic, responsive workplace and interior environments for clients across the country.
"Both practices have a shared ethos and approach developed over more than 30 years that focuses on high-quality workplace design solutions that help our clients to work more effectively. The core values of using research and design as agents of business and culture change will remain at the heart of Harmsen Tilney Shane.
"Tilney Shane also has a prestigious client list including Cadbury, Unilever and IBM. We believe the new firm will combine the best of both in terms of design and a strong track record of management and delivery."
Harmsen Tilney Shane will continue to offer a full range of services from analysing and assessing occupiers' space requirements through to furniture specification and designing new office environments.