Nearly £300m was wiped off the value of Bristol-based fund manager Hargreaves Lansdown after it revealed a slight fall in pre-tax profits.
The firm, one of lynchpin of the city's financial services sector, is traditionally a stellar performer on the London Stock Exchange.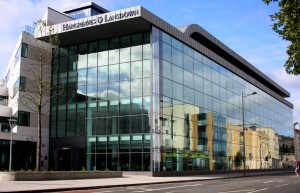 But its shares came under pressure on Wednesday – tumbling by more than 7.5% – as investors digested the 2% fall in half-year profits to £101.9m and a warning that continuing low interest rates were impacting on the business.
The profit figure was not helped by a strong corresponding period last year, which included a busy period for Hargreaves Lansdown due to the Royal Mail privatisation.
The firm, which calls itself the UK's largest direct to investor 'investment supermarket', handled just under a fifth of all applications for Royal Mail shares.
Hargreaves Lansdown, famously launched by Stephen Lansdown and Peter Hargreaves in a Bristol bedroom in 1981, was the largest faller on the London Stock Exchange this morning.
The fall came despite the firm revealing substantial growth in new clients and assets, during what it called a muted six months for stock markets and retail investing.
It added net new assets of £2.25bn during the six months to the end of December, taking total assets under administration close to a record £50bn. Some 23,000 clients were taken on during the period, lifting its total to 675,000. It also gained market share.
Chief executive Ian Gorham said: "Business activity continued to perform well compared to the wider retail investing market during the period."