Bristol specialist property developer Urban Creation has started work on a project to convert a five-storey Victorian villa in Clifton into high-quality apartments aimed at the growing private rental sector.
Beech House in St Paul's Road, pictured, will be converted into 14 homes made up of furnished studios and one-bed and two-bed apartments. The work, which will include renovating the landmark building, is expected to be completed by July.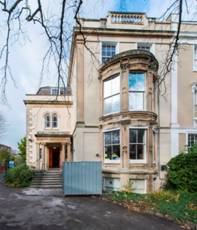 While the interior will have a modern look, many of the building's period features will be retained. Built as a family home, the house has recently been used as offices.
The project marks a return to the development of rental properties for professionals by Urban Creation after concentrating over the past few years on the student market.
Urban Creation director Jonathan Brecknell, who has many years' experience in converting historic Bristol buildings, said: "There is huge demand among young professionals in particular for rental homes that are finished to an excellent standard, with all their needs catered for, in sought-after areas such as Clifton.
"Having developed and managed properties in Bristol over the last 11 years, I've gained a real insight into how people want to live. They want somewhere they can call home – a 'home-from-home' feel – as well as a space that has been designed with real attention to detail.
"From devising the best possible layout to thinking about storage needs, the hallmark of our approach is creating cleverly designed spaces, making the most of all the opportunities a building has to offer."
Jonathan said many student accommodation tenants had remained loyal to the firm over the years, signing up for new tenancies year after year.
"So we are pleased we can now offer them the chance to stay with us when they move on from university into the world of work," he added.
Urban Creation acquired Beech House from three private individuals last September and is carrying out the work under Permitted Development Rights, which allows some office-to-residential conversions without the need for planning consent.
The firm has submitted a planning application for a new mews building in Beech House's rear garden with three additional two-bed apartments. It been designed sympathetically to ensure it is in keeping with the site and wider area.
Urban Creation, which manages some of the rental properties it develops itself, has a particular focus on Bristol city centre and Clifton but has also worked on schemes in Fishponds and Weston-super-Mare.