Building a fairer and more sustainable society would create jobs and boost the economy, Green Party leader Natalie Bennett said on a visit to Bristol.
Speaking to Bristol Business News, Ms Bennett, pictured, said it was a stereotype that her party was anti-business. But it wanted big businesses to behave more responsibly, she insisted, accusing large corporations of "trampling" on their small suppliers, paying low wages and avoiding tax.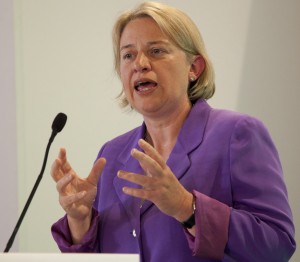 "You don't find many small green grocers hiding behind subsidiaries in the Cayman Islands," she said.
Most of her fire was turned on the behaviour of supermarkets, the financial services sector and the energy companies, who she said often put their shareholders ahead of customers and sent their profits abroad.
Some big businesses were even getting away with breaking the law. "Why is it that supermarkets operating just-in-time deliveries can simply park their vehicles illegally if they miss the slots, pick up parking fines and then just pay them?" she asked.
Then there's the way supermarkets treat their suppliers. "We're very concerned about this," she said. "As a teenager in Australia I worked for a small business which was forced to operate on 90-day payment terms but were often longer. It was a successful business but it nearly went bust every month and had to go to the bank to extend its overdraft."
Low pay was crippling the economy, leaving families worried about how they could afford to buy food let alone spend on other non-essential items, she said – pointing out that introducing a living wage would give an immediate boost to the economy.
The Green Party would ban zero-hour contracts and increase the Minimum Wage (now £6.50 an hour) to £10 an hour by 2020 and would then grow it a further 4% year on year after that.
"If the person sweeping the road outside Joe's Café gets a living wage then they can afford to go in and have a cup of tea every so often," said Ms Bennett. "And the care worker next door can have tea and a slice of cake. Everyone benefits."
This is part of the Green's 'circular economy' which would reshape today's 'linear economy' to benefit society as a whole – not just the people at the top.
"You can't have a fair society when 22% of those in work earn less than the Living Wage [£7.85 an hour at present]," she said.
Making society more energy efficient would also lead to a stronger economy. The Green Party would implement a national programme of energy efficiency and conservation – insulating homes "street by street" rather than on a piecemeal method – making them super-energy efficient and lifting "nine out of 10 households out of fuel poverty". This would create 200,000 jobs, she said.
"The current Government doesn't spend a penny on helping people make their homes more energy efficient," she said.
Turning to the banking sector, she said it had been allowed to operate almost as if the recession hadn't happened. "We have got to rein in the banks," she said. "We've got to get rid of this idea that they are too big to fail.  And we need a smaller financial sector."
Sitting eating lunch among local offices workers in Yurt Lush at Temple Quay, it was pointed out to Ms Bennett that she was in the heart of Bristol's financial sector. Wouldn't these workers feel a vote for the Greens would put them out of a job?
She insisted new jobs would be created in a diversified, more sustainable economy to replace those lost in finance. This circular economy would be more viable and less prone to global shocks – meaning the Government would not have to bail out banking sector again.
Other key sectors in Bristol – aerospace and defence – would also be adapted over time and encouraged to stop making environment-damaging products such as aircraft in favour of low-carbon technology and renewable energy equipment.
These green tech and alternative energy sectors would create well-paid jobs for British engineers and designers, she said. This was in contrast to the Conservatives' promotion of fracking (dismissed as a "fracking fantasy" by Ms Bennett) which would only benefit unregulated "cowboy" US operators.
Green Party prospective parliamentary candidate for Bristol West Darren Hall, one of those accompanying Ms Bennett on her visit to the city, added: "Some of Bristol's aerospace businesses have been the first to engage with Bristol Green Capital projects because they would like to be building other products. I'm an engineer by background and I know they want to be part of a circular economy rather than a linear one."
One of the good things Ms Bennett noticed about Bristol was the large number of people walking rather than driving – which echoed Green Party policy to encourage people out of their cars.
This in turn would help ease one of the bad things she had heard about the city – its poor air pollution.
"Walking and cycling is good for your health and improves air quality so we know there's a link between a positive transport policy and health," she said. "But the Government doesn't make that connection.
She acknowledged that Bristol's pro-cycling, independent Mayor, George Ferguson, had helped make the city much more bike-friendly. "It's much better than other British cities," she said. "But compare it with Copenhagen or Amsterdam and it's still got a long way to go."