An innovative automotive industry cluster focussed on ultra-low emission cars is to be developed in the Bristol area following the go-ahead for a new world-beating research centre.
The £60m IAAPS – Institute for Advanced Automotive Propulsion Systems – pictured, will provide access to its state-of-the art facilities for start-ups and small to medium-sized companies in the sector as well as harnessing the University of Bath's world-beating automotive research and input from major industry players.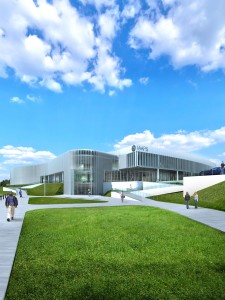 Construction work on the centre at the Bristol and Bath Science Park will start next summer and it is scheduled to open in early 2020 after receiving nearly two-thirds of its funding.
The landmark decisions by the Higher Education Funding Council for England (HEFCE) and the West of England Combined Authority (WECA) with the Local Enterprise Partnership (LEP) have given the green light to the ambitious plan, which has been on the drawing board for the past two years.
The IAAPS will be a global centre of excellence, working on transformational research and innovation into advanced propulsion systems, including a new breed of ultra-low emission vehicles, electric and driverless cars.
It will exploit the existing world-class engineering expertise of the University of Bath for the benefit of the UK's automotive industry.
The university said it will stimulate more than £67m in additional automotive research investment by 2025, creating an additional turnover of £800m for the UK automotive sector and supporting nearly 1,900 new highly productive jobs.
While a recognised global centre of excellence for aerospace engineering, Bristol has not developed a specialist cluster of businesses in the automotive sector.
However, the rise of low-emission, electric and driverless vehicles is ushering in a new era for the industry based on  technologies and specialisms which are already established in the city such as virtual and augmented reality, robotics, smart materials and smart city networks.
A number of global automotive companies are lined up to work with IAAPS, including McLaren, Ford, Jaguar Land Rover, engineering consultancy Hofer Powertrain and Japanese instruments group HORIBA, as well as local firms such as HiETA Technologies, a pioneer in 3D printing and 'additive manufacturing' for the automotive sector also based at the Science Park.
IAAPS is also supported by the Automotive Council. Specialist facilities will make it a centre of excellence for training and skills development in automotive engineering and help address the sector's skills shortage by supporting new apprenticeships, honours degrees, masters and doctoral courses.
University of Bath president and vice-chancellor Prof Dame Glynis Breakwell said: "I am delighted that IAAPS has received the support and backing of the government. The university has over 40 years of automotive research excellence in collaboration with some of the world's leading companies and is ideally placed to turn this opportunity into a reality.
"I look forward to this fantastic facility opening its doors in 2020, helping to ensure the UK maintains and expands its global position within the automotive sector."
Universities and science Minister Jo Johnson added: "The UK's world-renowned leadership in science, research and innovation is helping to solve a range of national and global challenges, and the breadth of the projects funded today means this will continue.
"Through our Industrial Strategy and £4.7bn investment for research and development, we're ensuring we capitalise on the great work taking place in universities across the UK and remain at the forefront of innovation."
West of England Mayor Tim Bowles said supporting innovation and business growth was key to the economic success of the region. "I'm delighted that through the Joint Committee we've been able to support the development of this global centre of excellence in our region," he said.
HEFCE's capital investment of £28.9m comes from its UK Research Partnership Investment Fund, while £10m has been earmarked by WECA and the LEP through the Local Growth Fund.