A Bristol civil engineering student who won a national award says she is glad she "took a chance on herself".
Zawadi Mwambeyu, who is studying at the University of Bristol, fought off 12 other contenders to take the top spot in Women in Property's National Student Awards.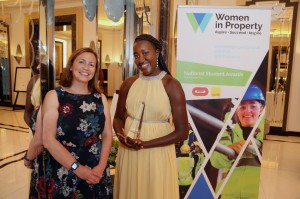 The awards were set up to recognise and inspire young female talent into the industry and are open to second-year female students studying for Built Environment degree.
This year, 119 students from 54 UK universities entered.
Having won the South West heat earlier this year, Zawadi, pictured, right, with Women in Property national chair Rachel Bell, then went up against the other regional winners in the national 'best of the best' final.
The students were quizzed about a specific piece of coursework as well as their career aspirations by a judging panel of industry professionals,
Rachel Bell, a director in Bristol-based architectural practice Stride Treglown, sat on the judging panel alongside Carole Ditty of Bouygues UK and Iain Maxwell of Savills, both national sponsors of the awards, and Caterina Polidoro of architects tp bennett.  
The judges described Zawadi as "having great maturity and professionalism, confidence and humour, and a real serenity and depth about her".
They added: "She gave very well-structured responses to our questions and, in our view, embodied the potential for an alternative way of leadership."
"We were wowed by her comments, for example 'great things never come from staying in your comfort zone', and adopting Verna Myers' quote – 'Diversity is being invited to the party but inclusion is being asked to dance'."
Zawadi said: "My journey through the awards programme would not have come this far if I did not take a chance on myself.
"Because of the self-confidence I have grown into over the course of the process, I am able to appreciate how many doors this opportunity has opened. Whenever people doubt themselves and ask 'why me?' they should instead ask 'why not me?'"
Rachel said the young women taking part in the awards were truly inspiring.
"We should never forget how much we can learn from the next generation coming into the industry," she said.
"They challenge the status quo, bring fresh thinking and, without exception, have a very real sense of responsibility and stewardship for the sustainability of our environment. My congratulations go to all of them but particularly to our 2021 winner Zawadi Mwambeyu."
As well as a trophy, Zawadi wins a cheque for £1,000, membership of Women in Property and access to its acclaimed mentoring programme.
The awards aim to:
Recognise the talent available to the industry at the earliest possible stage

 

Highlight to industry the necessity to link with universities early in the educational process

Broaden the opportunities open to students as they progress through their university career, with paid work placements

Improve the knowledge of those at university on the career options available

 

Improve the students' skills to present their coursework

Encourage students to represent their profession and inspire other women.
More than 1,300 students have passed through the awards programme since it was first held in 2007.