Accountancy firm Grant Thornton is predicting further growth in the South West in tandem with its national practice, which this week recorded its fifth successive year of strong results. Revenue across the UK was up 9% to £512m for the financial year ended June 30, hitting its turnover target for 2015 a year early.
Its South West practice, which has its regional head office in Bristol, has recently appointment Tim Lincoln, pictured, as practice leader and promoted Allister Weir, who leads the corporate tax advisory and compliance team, to partner.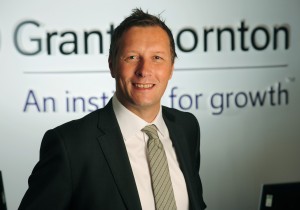 This marked the beginning of a new period of investment in the firm's Bristol office in Victoria Street and its regional hubs in Tewkesbury, Dorchester, Exeter and Truro, which together employ more than 200 people.
Tim Lincoln said: "My absolute focus is on extending Grant Thornton's reach into the South West market place.
"We are in a strong position but we are investing in our team to go even further. That means bringing in new people at all levels of the firm, and developing our existing staff. This is yet another excellent set of results for the firm and will only serve to bolster our ambitions in the region."
The predominantly organic growth nationally came on the back of double-digit performance in the previous two year and contributes strongly to Grant Thornton International Limited being the fastest-growing international accountancy network.
Growth was driven in large part by continued strengthening of the advisory practice, which grew 15%. The firm's audit practice also improved by 4% while turnover from its tax offering remained broadly flat year on year.
Profits rose 7.7% in absolute terms and on a like-for-like basis average pre-tax profit per partner was up by 15% to £402,000.
Distributable profit per partner was up by 10% to £385,000 after accounting for the changes to the taxation of employee service companies which occurred mid-way through the year. The firm's total contribution to the Exchequer in respect of all taxes was £169.4m, with an average rate of tax paid per partner estimated at 42.5%.