The Bristol office of accountancy firm Grant Thornton has advised on the £117m sale of Wiltshire fuel distribution business Watson to US-based global fuel logistics group World Fuel Services.
Family-owned Watson, which employs 670 people, will now be combined with World Fuel Services' existing UK operations.
Watson, based at Brinkworth, near Royal Wootton Bassett, is one of the UK's largest fuel distributors. The firm was launched in 1957 as a small local operator but has grown into one of the region's largest firms. Its 2013 revenues are expected to be £1.34bn.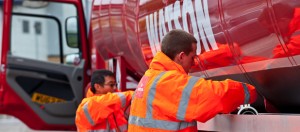 Legal advice was provided by the Swindon office of M4 corridor law firm Thrings, which has also has an office in Bristol.
Grant Thornton regional head of corporate finance Mark Naughton, said: "It has been a pleasure working with Watson Petroleum and Thrings to secure an excellent outcome for the business and its shareholders.
"Watson Petroleum has an excellent opportunity to continue to expand from its base in Brinkworth with the support of World Fuel."
Watson Petroleum supplies commercial fuels and industrial lubricants throughout the UK via its network of 45 depots and approved suppliers. Under the terms of the deal, Tony Watson will remain as managing director while also overseeing all World Fuel land distribution businesses in the UK.
World Fuel Services is one of the world's largest global fuel logistics companies, and was recently ranked 74th in the Fortune 500.
Mr Watson said: "Recognising its extensive capabilities, breadth of products and services and solid financial foundation, we felt the acquisition would present us with a significant strategic opportunity to expand our product and service offering, accelerate plans to develop our distribution network and offer our clients and staff a clear and exciting future."
The Thrings team was led by senior corporate partner John Davies and associate solicitor Simon Hore. Thrings worked closely with the owners of Watson Petroleum on all strategic and legal matters.
Mr Davies said: "Thrings has enjoyed a close working relationship with Watson Petroleum for almost six decades. In the last 10 years alone I have taken great pleasure working alongside managing director Tony Watson and his team on the acquisition of more than 20 fuel distribution businesses throughout the UK. During that time our focus has remained on consistently providing a first-class standard of legal advice.
"This deal was no exception, and we are delighted to have successfully negotiated the legal complexities which helped bring matters to a positive conclusion for all parties. We are extremely proud of our association with Watson Petroleum, and wish the company and its employees all the very best during this exciting period and beyond."
World Fuel Services operates the Henty Oil business across the UK. The group is quoted on the New York Stock Exchange.