Consultants at Clifton Asset Management, the Bristol-based specialist financial services firm, were given an expert view of the state of the economy and its impact on the market with a visit to its head office by Justin Urquhart Stewart.
A high-profile commentator on the personal finance sector and a regular contributor to radio, TV and the press, Mr Urquhart Stewart pulled no punches in his talk to the firm's staff.
He claimed Chancellor George Osborne's optimism was misplaced and that there remained some major problems for the economy.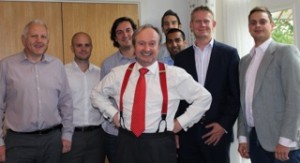 "He's saying it's all fine and dandy. But it isn't," said Mr Urquhart Stewart, pictured with Clifton Asset Management staff, whose Seven Investment Management (7IM) company is providing discretionary fund management for Clifton Wealth's Viewpoint portfolio management platform.
Noting that the day of his visit coincided with the fifth anniversary of the collapse of Lehman Brothers, he said: "Things are obviously better than they were. Then it looked like a new Armageddon.
"The economy is growing at about the long-term average – that's not bad. But the economy is damaged. We had 10 years of boom so you can expect it to take 10 years to recover. So, regardless of what Mr Osborne says, we are still quite a way from full recovery."
Politicians could be doing a lot more to help in a positive way, added Mr Urquhart Stewart, who trained as a barrister before working in international corporate finance in Africa and Singapore and then back in the UK. This led him to help found Broker Services in 1986, which went on to become Barclays Stockbrokers, where he was corporate development director. He co-founded 7IM in early 2001.
Clifton Asset Management's specialist fields include business funding, wealth management, exit strategies, tax advice, employee benefits and individual and corporate protection.