Bristol hotel bosses are calling on the government to reverse the post-Brexit ban on visas for EU hospitality workers as they battle against skill shortages that have left them with around 500 vacancies.
Members of the Bristol Hoteliers Association (BHA) fear that, while business has been booming in recent weeks, any short-term gain will be lost by the severe staff shortage which is continuing to impact the sector. 
The BHA, which represents 40 hotels in and around the city with around 4,000 rooms between them, is blaming a combination of Brexit and the pandemic for the crisis.
It says many European workers who went home when Covid-19 forced businesses to temporarily close were now unable to return under post-Brexit legislation.
BHA chairman Raphael Herzog, pictured, said Bristol had been one of the UK's busiest cities and its hotels had enjoyed a "very, very strong summer" with very high occupancy rates.
"The relaxing of pandemic restrictions resulted in a strong staycation summer, which was warmly welcomed by hoteliers in Bristol," he said.
"It's a sign that consumer confidence is returning and we are hoping this will continue now that the school holidays have ended."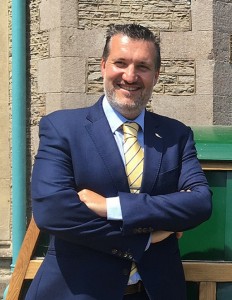 But the long-awaited and much-welcomed recovery was being jeopardised by the recruitment headache.
"We have had a very good summer but in order to build on this success and secure the long-term viability of our businesses, we need more support and, most of all, we need to be able to recruit," he said.
"Changes need to be made to allow EU workers to be able to return to UK hospitality businesses, otherwise we are going to continue to struggle.
"Staffing remains our biggest challenge and unemployment is still very high. If we can't meet the expectations of our guests then they will not want to return.
"People who visit our hotels don't fully understand the impact of the staff shortage and their expectations when they arrive are really high. It's extremely difficult trying to meet those expectations when we are so short-staffed."
He said BHA members were hoping for large conferences to return soon, which will provide them with a good business base for the final quarter of 2021 and the first quarter of 2022.
"Hopefully we'll start seeing an increase in inquiries now that the traditional summer holiday period is over," he added.