Business leaders are urging the government to continue to invest in the West of England amid signals its 'levelling-up' agenda is switching spending to other areas of the country as the econony falters.
The plea has come from Business West, the organisation that runs Bristol Chamber of Commerce and the Bristol Initiative, and follows a shock economic forecast that the UK economy is expected to grind to a halt later this year and will even dip briefly into negative territory.
At the same time, according to the report by the British Chambers of Commerce (BCC) – which Business West, the region's largest business group, is a key member of – inflation will hit 10% in the final quarter of 2022, comfortably outpacing average earnings growth.
The heightened economic uncertainty and rising costs are also expected to significantly weaken business investment, with 1.8% growth predicted this year- down sharply from 3.5% in the previous forecast.
Business West director of policy Matt Griffith, pictured, said it was vital the government supports existing strong economic areas such as the West Country and made sure it has the level of investment in infrastructure, skills, transport and housing it needs.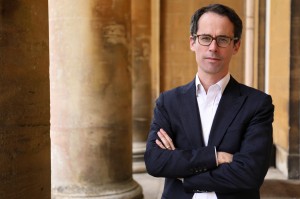 "Recent signals from central government seem to suggest it is not pushing our areas as much as it could on things like housing, providing sufficient employment space and strong local plans," he added.
"This is not glamorous, but not delivering here risks long-term underperformance and sluggish future growth in incomes and jobs for our people."
Business West has long lobbied the government for further investment in the region, particularly as it contributes more to the UK's GDP than any region outside of London and the South East.
It fears that essential spending in key areas such as transport and infrastructure, which would allow the region to prosper and create more high-value jobs, will be trimmed back as the economy slows and funding is targeted at other areas under so-called 'levelling up'.
The BCC forecast shows that expectations for growth this year, at 3.5%, are now less than half the 7.5% growth recorded last year.
Quarter-on-quarter GDP is expected to flatline with no growth expected in the second and third quarters before contracting by 0.2% in the final three months.
This negative outlook reflects a combination of soaring inflation, weak business investment, tax rises and the global economic shocks – initially caused by Covid and then compounded by the war in Ukraine, said the BCC.
Annual UK economic growth is expected to slow sharply to 0.6% for 2023 before recovering slightly to 1.2% in 2024.
Consumer spending is now forecast to grow at 4% this year, a fall from the 4.4% prediction in the first quarter.
This reflects the historically high squeeze on real household incomes as inflation far outpaces the forecast 5% growth in average earnings for the year.
The BCC forecast echoes the gloomy outlook from accountancy group Grant Thornton. Its latest research shows the highest rate of inflation in a generation is having a huge impact on businesses across the South West, which are having to raise their prices in response.
In its latest Business Outlook Tracker survey, Grant Thornton found that 24% of the South West's mid-market firms had already raised their prices, with a further 56% intending to do so.
Some 39% of these expect a price increase to remain in place for at least 12 months, while 10% anticipate that this will be permanent.
The research also found that amid rising costs, wage inflation and energy bills, confidence in the region's mid-market has eased – with 64% describing themselves as optimistic about the outlook of the UK economy, two percentage points down on February's figure.