A giant interactive gorilla sculpture made in Bristol from sustainable wood has been unveiled to mark the countdown to the closure of the city's iconic Zoo Gardens in just six weeks' time.
At nearly 7m high and sitting on the zoo's main lawn, the 'gorilla mum' is taller than the largest giraffe ever recorded and as wide as three king size beds.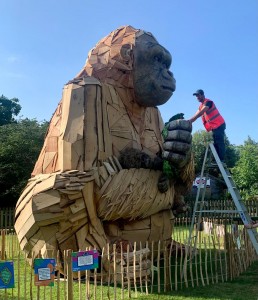 It has been made by Fishponds-based, multi award-winning theatrical events company Bakehouse Factory, from 180 sq m of local yew, cedar, pine and oak donated by Westonbirt Arboretum, and weighs more than four tonnes.
Named 'Wilder', the sculpture will surprise visitors with its movements as she 'eats' lettuce, sprays water and reveals her baby 'Monty-Alan', hidden in the crook of her arm.
The baby's name, inspired by the Monte Alen national park in Equatorial Guinea where the zoo's owner Bristol Zoological Society works to protect western lowland gorillas in the wild.
The artwork is the centrepiece of the 'BIG Summer Send-Off' programme, which is encouraging people to make one final visit to the zoo, the world's fifth oldest having opened in 1836, before it closes its doors for good on 3 September.
The programme features a 'Past, Present, Future' outdoor exhibition on the zoo's historic top terrace which features pictures and heartfelt words to create a history of the attraction made by its visitors.
There will also be a Zoo and You Poetry and Story Competition, The Wall of Memories, and Live Legacy Art, a series of street art murals inspired by the attraction.
There is also an interactive theatrical experience, 'Into The Wild', when families can don animal-eared headphones to be taken on an adventure, with a cast of performers helping them explore and learn about animals and the positive action they can take to save wildlife.
Part silent disco, part storytelling adventure, the show has been inspired by the next chapter of conservation charity Bristol Zoological Society's story.
Following its closure, many of the zoo's 300 species of animals, including its troop of western lowland gorillas, red pandas, sloths and penguins, will move to its sister site, Wild Place, near Cribbs Causeway.
Wilder will also move to Wild Place, which is 10 times the size of the Clifton site, and where she will gradually transform into an enormous 'bug hotel'.
Bristol Zoo Gardens head of public engagement Simon Garrett admitted that, like all its staff, he will be sad to see the attraction's closure.
But he said the current location was not suitable for it to continue to lead the way in conservation and take it to the next level.
"When the zoo opened, Darwin was still on his expedition voyages. It was built on farmland and animals would arrive at the port in Bristol and be walked, or brought up on horses and cart," he said.
Houses and other buildings now surround the current site and car parking is at a premium, he added, meaning now was nowhere to expand to.
Conservation had also changed a lot since earlier messages in the 1990s, he said, which tended to focus more on breeding programmes.
"From there, it developed into experts also going out into the wild – working with local people in, for example, Equatorial Guinea in Africa," he said.
The new Bristol Zoo, which is expected to open at Wild Place in 2024, will lead the way in conservation.
Some 80% of its animals will be geared around conservation – with an ambition to increase this to 90% in future – more than any other UK zoo.
Simon said messages about conservation have tended to be rather negative and 'doom-and-gloom'. But it was important to stress that as individuals and as a society we could, and must, do something.
"Everyone can play a part – for example in the choices people make when they go about their daily shopping, such as not buying unsustainable palm oil," he said.
"These choices are huge in terms of conservation. The message has got to be that people – society – can be part of the solution."
The Into The Wild show was all about taking conservation to the next level and shifting the emphasis.
"The show will be saying 'Whoever you are and whatever you do – you too can be a conservation expert'."
Tickets for the BIG Summer Send-Off and the theatre show 'Into The Wild' are on Bristol Zoo Gardens' website www.bristolzoo.org.uk