National law firm Clarke Willmott, which has an office in Bristol, is calling on Google to do more to crack down on fake and malicious reviews following a spate of scathing online comments about it that it believes were made using false accounts.
Over the course of five days, the firm was alerted to a number of one-star reviews on Google, all directed at its conveyancing service and all from newly created accounts with no other activity.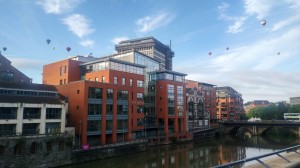 The firm responded to all the 'reviews' and reported them to Google through the tech giant's official channels.
However, it says it is yet to receive any response or even acknowledgement from Google.
Clarke Willmott director of marketing Martin Palmer, who is based in the Bristol office, said: "Having carefully looked into this, we are confident these are malicious reviews, possibly from a single person using multiple fake accounts.
"These are clearly false statements. Our reputation is everything to us and we won't tolerate baseless accusations made anonymously and with the clear intention of harming our good name."
He said Google, as the owner of the platform on which these reviews are published, should do more to stamp out obviously faked accounts.
"As a minimum they need to make it easier for such reviews to be taken down, while ensuring those who do make such statements online are accountable for their potentially actionable comments," he added.
Clarke Willmott has carried out an internal review but has not found any connection between the claims made and the work carried out by its conveyancing teams. It says the claims are even more galling given the extremely positive responses it receives from genuine clients in relation to the quality of its service.
Martin added: "Defamation and malicious falsehoods have always applied to classic forms of publications, such as newspaper articles, radio broadcasts and so on, but in today's digital world some people seem to think the same rules don't apply.
"In reality, however, even tweets have been ruled defamatory by the courts, with political agitators such as Katie Hopkins falling foul of this."
He added: "We are calling on platforms like Google to be far more stringent when it comes to obviously faked reviews and to react much faster to complaints given the huge damage that is being caused to companies' reputations."
As well as its Bristol office, pictured, Clarke Willmott also has bases in Birmingham, Cardiff, London, Manchester, Southampton and Taunton.