Bristol law firm Barcan+Kirby is to continue its partnership with Gloucestershire County Cricket Club (GCCC) for the 2022 season.
Barcan+Kirby became involved with the club in 2020 as a 150th-anniversary sponsor and the relationship has continued to grow since.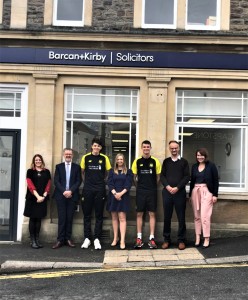 Under the partnership, the firm, which has six offices in and around Bristol – including one on Gloucester Road, Bishopston, near the club's Seat Unique Stadium – advises the club on legal matters such as contracts, sponsorship agreements and corporate governance.
Earlier this year, Barcan+Kirby's staged an event on employment law for the club and there are plans to continue sharing its extensive knowledge with GCCC in the future.
In return, GCCC provides Barcan+Kirby with opportunities for corporate hospitality, networking and sponsor events.
It also benefits from the use of the club's facilities for social events and meetings while its branded banners are displayed on the Mound Stand, the stadium's largest.
Barcan+Kirby managing partner Bill Willcocks said the partnership had brought together two organisations that put people at the heart of all that they do.
"We look forward to an exciting year of events and are proud to work alongside GCCC to champion our local community," he added.
Gloucestershire Cricket chief executive Will Brown said: "Gloucestershire Cricket is a proud supporter of local businesses and we're thrilled to have Barcan+Kirby with us for another year as a key partner in our infrastructure.
"The Mound continues to look fantastic with the addition of Barcan+Kirby branding."
Barcan+Kirby's renewal follows the continuation of Bristol-based business, health and personal insurance specialist Towergate Insurance's sponsorship deal with GCCC, which includes shirt sleeve branding across all formats of the game for another season.
Pictured in front of Barcan+Kirby's Gloucester Road office, from left: Barcan+Kirby head of marketing and business development Lucy Harttrup, managing partner Bill Willcocks, Gloucestershire cricketer Dominic Goodman, Barcan+Kirby partner Samantha Castle, Gloucestershire cricketer Ollie Price, Barcan+Kirby partner Robert Davenport and solicitor Natalie Pring