Bristol may have a reputation as a forward-looking creative and techie city – but its historic buildings are making it the centre of Tudor England for international TV and film production companies.
These firms are increasingly heading West to shoot their 16th century tales of intrigue and power.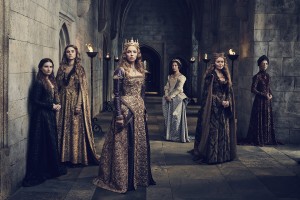 The latest to take advantage of Bristol's historic locations, along with its supportive attitude towards filming in the city, is hotly anticipated royal drama The White Princess, which was screened for the first time on US TV on Easter Sunday.
The production – described as a tale of power, family, love and betrayal – was shot last year on sets at The Bottle Yard Studios in Bristol and also in the Cathedral.
The Starz Original Limited Series, is a follow up to the BBC's 2013 Golden Globe and Emmy-award nominated The White Queen, was made by Company Pictures and Playground and filmed on purpose-built sets at The Bottle Yard Studios and other locations across Bristol.
Coordinating the entire shoot from production offices at The Bottle Yard Studios, the US and UK-combined production team also used additional build space, stores and costume areas on site.
Bristol Film Office provided unit bases for filming at locations across the city, facilitating location liaison and organising holding areas at City Hall for around 100 cast extras during a large-scale shoot at the Cathedral.
Series producer Lachlan MacKinnon said: "The Bottle Yard Studios is an ideal production base given its proximity to some of the finest Tudor locations England has to offer.
"The height and size of the studios were a big draw for us due to the size of our set build, and Fiona [Francombe, site director of The Bottle Yard Studios] and her team couldn't have been more helpful in facilitating this."
Fiona added: "Our space lends itself incredibly well to creating entire worlds for period drama shoots – and The White Princess was no exception.
"The skilled crew created a rich and beautiful Tudor world with their amazing set build, enhanced by a stunning and authentic costume department.
"We're seeing a rise in inquiries as word gets out amongst overseas producers considering a UK shoot about the scale of production we can accommodate – and shows like this, made for a worldwide audience, are a great illustration of what can be achieved at The Bottle Yard."
Bristol Film Office manager Natalie Moore said: "Bristol's global reputation as an ideal destination for world-class film and TV production grows each year.
"The city's fantastic period locations, flexible studio space at The Bottle Yard, talented local crew base and free support delivered by the Film Office, means that Bristol can deliver a full package of support.
"It was very exciting to have Company Pictures and Playground back at Bristol Cathedral where they filmed Wolf Hall in 2014.
"With such a large-scale historical production like The White Princess taking place in the city centre, we were delighted to provide logistical support to help them achieve a smooth shoot."
Drawn from the historic fiction novel of the same name by Philippa Gregory, and part of The Cousins' War book series, The White Princess sees England ostensibly united by the marriage of Princess Elizabeth of York (Lizzie) and King Henry VII.
However, their personal and political rift runs deep and the divide between them threatens to tear the kingdom apart once again.  
The White Princess is the latest in a string of major titles to be made at The Bottle Yard Studios and filmed in Bristol with the support of Bristol Film Office, including ITV's Broadchurch, E4's Crazyhead, BBC One's The Living and the Dead, Poldark and Sherlock: The Abominable Bride, and Emmy-nominated and BAFTA-winning BBC Two drama Wolf Hall.