Engineering group GKN's aerospace plant in Bristol has been recognised as Airbus's best-performing supplier in the European aircraft maker's annual supply chain awards.
It follows on from GKN Aerospace's success last year when the plant gained the accolade for most improved supplier – the result of significant industrial performance enhancements achieved working with Airbus during 2012.
GKN bought Airbus's Filton manufacturing operations in 2008 and the two are now neighbours on the sprawling Filton site. Airbus's operations at Filton now mainly centre on engineering, particularly wing design.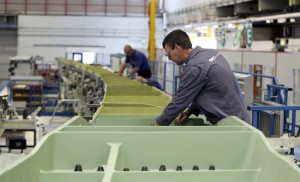 Since the acquisition, GKN has invested heavily in the plant to develop it as a global market leader in the design and manufacture of aircraft wing structures, making major structural wing sub-assemblies, precision machined components and advanced systems for all variants of Airbus aircraft.
The plant, which also makes a smaller number of parts for French group Dassault and Lockheed Martin of the US, employs 1,700 people out of the worldwide total GKN Aeropsace workforce of 12,000.
GKN said the award recognised the consistently high level of performance and commitment of its aerospace team at Filton.
GKN Aerospace vice president and managing director – metallics, John Pritchard, said: "To receive both 'most improved supplier' and then 'best performing supplier' from Airbus in just 24 months is an excellent achievement for us.
"Our entire workforce – at Filton and globally – is committed to delivering excellence to our customers. We have embedded robust practices and created a customer-focused culture that have delivered significant, measurable performance benefits. It is extremely satisfying for our Filton team to see the site recognised with such an important customer award."
GKN Aerospace has been an important supplier to Airbus for more than two decades, with the activity increasing as GKN Aerospace has grown in size and capability to become a global tier-one supplier.
Sales to Airbus represent approximately 20% of GKN Aerospace's total annual turnover of £2.2bn and the company supports almost all Airbus aircraft programmes with products ranging from complex composite and metallic airframe and engine structures to advanced cockpit and cabin transparencies.
Innovative composite wing parts are made by GKN at a sister plant at Severnside, near Bristol.
Pictured above: An inner wing spar for the Airbus A380 being produced at GKN Aerospace, Filton.
Pictured below, from left: Eric Zanin, Airbus head of procurement operations, Julien Puyou, Airbus head of procurement operations aerostructures (POS), John Pritchard, GKN Aerospace vice president and managing director – metallic, and Jeffrey Sheridan, Airbus procurement operations, supply chain