Unemployed young people across the South West will get more help into work, training or education, thanks to the generosity of business leaders and philanthropists who raised an amazing £150,000 for The Prince's Trust in just one night.
The charity's annual Red Dinner in Bristol is its biggest regional fundraising event of the year – and this year's record total means it has brought in more than £800,000 since it started seven years ago.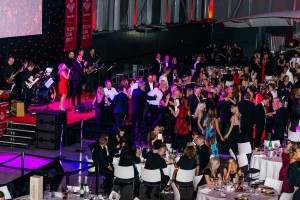 More than 450 guests from across the region attended the black-tie event at the Bristol Aerospace museum at Filton, enjoying a three-course dinner, auction and dancing.
The Prince's Trust helps young people to develop the confidence and skills they need to realise their ambitions, so that they can live, learn and earn.
Founded by The Prince of Wales in 1976, it supports 11 to 30 year-olds who are unemployed, struggling at school and at risk of exclusion.
During the Red Dinner, a group of the Trust's Young Ambassadors – young people who have completed one of its programmes – shared their inspirational stories and demonstrated the impact the programmes can have.
One of the dinner's supporting partners was Heather Frankham, founder of Origin Workspace, which recently opened a co-working space in Berkeley Square.
She said: "It was wonderful to see how generous people can be when it comes to providing opportunities for the talent of tomorrow, who may not have had the best start in life.
"Now more than ever we need to prioritise investment in young people as they are the engine room of the future. Their enthusiasm and skills should be nurtured and developed, no matter what their background.
"The Princes Trust provide a great avenue to support those wanting to put something back into our community through their work with young people."
The Trust's South of England director Rozzy Amos added: "The evening was a great success and we are immensely grateful to the South West community in attendance who showed such generosity. 
"The Young Ambassadors who told their stories were an inspiration and a credit to themselves. It is truly wonderful to see the response to their stories of bravery and transformation.
"The money raised will go a very long way in supporting vulnerable young people in the South West."
The Red Dinner was also supported by Bristol Private Equity Club, Stuff Advertising and Rice PR.  
For more information about the The Prince's Trust work click here