A student from the University of Law in Bristol has been named Future Legal Mind 2017, winning £5,000 and a placement at national law firm Simpson Millar.
Hana Kapadia, pictured, who is studying for her graduate diploma in law (GDL), clinched the title with an essay on why the UK civil justice system needs lawyers.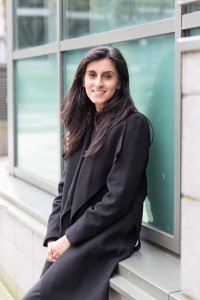 Future Legal Mind was set up by National Accident Helpline to recognise young legal talent across the UK.
The award, run in association with legal industry publication Lawyer 2B, is now an annual scheme following its successful launch in 2014
Hana, a 21-year-old student from Cheltenham, said: "I still can't believe it, to be honest. I was elated to hear that I won.
"To have won such a prestigious award is a real honour, and I cannot express how grateful I am.
"Winning the competition will undoubtedly provide a huge boost to my CV, and is going to be a huge aid financially, to give me a sense of security towards funding my studies.
"I would definitely recommend all law students to enter Future Legal Mind 2018."
She said studying at the University of Law in Bristol had helped her gain a broader understanding of the legal world, as well as being a positive experience all round.
"Bristol is an incredibly vibrant city, and I've really enjoyed my time at the University of Law," she said.
"Studying the GDL here has been a really enjoyable experience as the university ensures that you develop a wider awareness of what's going on in the legal world."
National Accident Helpline managing director and chair of judges Simon Trott said: "We were extremely impressed with Hana's essay. It was thoroughly researched, lively, and showed a deep understanding of the UK legal system.
"Hana's perception of the development of society and how this affects the legal profession was profound.
"We wholeheartedly congratulate Hana on her hard work, and look forward to seeing her develop her legal career, supported by Future Legal Mind."
Heather Jane, who also studies at the University of Law, was among the finalists for the award.
Simpson Millar has two offices in Bristol.
To find out more about Future Legal Mind, and for details on entering the 2018 award, visit: national-accident-helpline.co.uk/future-legal-mind