WellBoring, the West charity that drills boreholes for clean, secure water supplies at schools and communities in developing countries, is staging a fund-raising abseil down the Avon Gorge in Bristol later this month.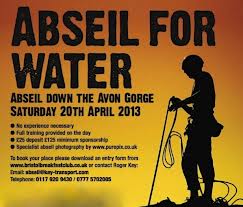 The charity has teamed up with the Rotary Club of Bristol Breakfast Club to organise the event. It has 100 spaces to fill.
Chippenham-based WellBoring has already drilled a much-needed bore hole at the Summit Schools in Kenya, bringing clean water to the 170 children and the local community. The project, WellBoring's first, was completed in Aug 2011 and has been followed by three new efficient wells, delivering sufficient water for the entire community of Massa village in Sierra Leone.
It is now working on a second project in Kenya. Kibiko Schools, 30km west of Nairobi on a 46-acre site, has a primary school with 800 children, secondary school with 350, a church and a police post.
The abseil on Saturday April 20 will be a great opportunity to descend 200ft of the spectacular 300ft deep Avon Gorge while supporting a fantastic cause.
Full training will be given on the day. Participants will need to give a £25 deposit and have a minimum of £125 sponsorship. No experience in necessary.
For more information and to download an entry form go to www.bristolbreakfastclub.co.uk or contact Roger Key at abseil@key-transport.com or phone 0117 920 9430 or 07775 702005.