Flourish Zone, which aims to revolutionise the global workplace wellbeing and coaching industry with the use of artificial intelligence (AI), is a step closer to realising its ambitions thanks to a £140,000 investment from the Bristol Private Equity Club (BPEC).
The Bath-based firm will use the funds to add the finishing touches to its proprietary technology, which is designed to help companies boost employee productivity through AI and machine learning algorithms.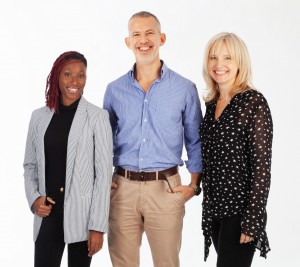 Flourishzone chief growth officer Mike Sotirakos said reduced productivity caused by factors including poor wellbeing, mental health issues and lack of proper coaching was costing businesses around £9 trillion globally.
"Our philosophy is that, from the director level down, all companies and large organisations need someone they can trust to coach them and drive them towards continuous improvement," he said.
"What we have developed at Flourishzone is a digital platform which creates an ecosystem of such experts to help organisations flourish and grow."
Once the AI-driven platform is made publicly available, professional lifestyle and business coaches from anywhere in the world will be able to add their own content, including questionnaires and videos, which the end users – businesses and their employees – can use to help their working lives.
Mike, pictured above flanked by Flourishzone junior software engineer Jamila Ferron and director Adrienne Percival, added: "The world is facing a workplace wellbeing epidemic. Flourishzone is all about workers' own wellbeing, helping them set goals and ensuring those are aligned with the aims and aspirations of the corporate.
"There is an enormous global market out there of companies seeking ways to boost productivity, coupled with highly skilled coaches who can provide solutions to that issue.
"Flourishzone can connect these groups to create a virtuous circle where happy, engaged and motivated workforces are plugging the productivity gaps."
Nine members of BPEC decided to invest a total of £140k into Flourishzone.  The club was set up three years ago by a group of like-minded individuals with close ties to the city who can invest in, and support, local, fast-growth businesses with a range of skills and experience. It has since invested a total of £6m in 19 businesses in the West of England.
BPEC founder Jerry Barnes said: "More and more West-based businesses like Flourishzone are developing world-class technology which has the huge potential to transform the way we live and work.
"Within BPEC we now have 80 successful entrepreneurs and businesspeople with capital to invest.
"Our members are all committed to supporting fast growing and successful businesses and to share the expertise and lessons they have learned over the years with those at the leading edge of development."