Bristol climate tech start-up Mykor has secured investment of £825,000 to expand development of its innovative carbon-negative insulation.
The pre-seed funding round, co-led by Sustainable Ventures and Green Angel Syndicate, will enable the firm to build a pilot manufacturing line for its carbon-negative insulation MykoFoam, pictured, so helping the transition to low-carbon buildings.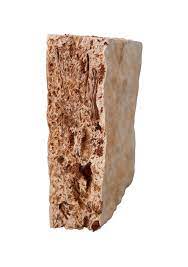 The construction industry is responsible for 11% of worldwide carbon emissions. Mykor aims to decarbonise the industry by developing carbon-negative materials.
MykoFoam, its proprietary thermal and acoustic insulation, feels and performs like foam but, unlike polystyrene, is completely renewable.
Utilising fungi network technologies, MykoFoam diverts cellulosic waste by-products from the paper industry from being incinerated and uses 90% less water, 40% less energy, and 60% less CO2 than traditional competitors.
Mykor, which also has a base in Lisbon as well as workshops in Kingswood, has already won grants totalling £470,000 from Innovate UK and the EU, which funded its early stages of research and development.
As well as paying for the pilot manufacturing line, the latest investment will enable Mykor to launch and certify MykoFoam in the UK and Portuguese markets. It will also fund expand of its team in Portugal and test concepts for upcoming projects.
Mykor co-founder Valentina Dipietro said: "We're delighted to have secured this pre-seed funding round, which will allow us to accelerate our expansion plans and bring MykoFoam to market.
"Our mission is to decarbonise the construction industry and make sustainable housing a reality, and we're excited to take this important step towards achieving that goal."
Green Angel Syndicate chief executive Cam Ross added: "Completing our investment in Mykor represents a significant further step for Green Angel Syndicate towards helping to decarbonise the construction industry.
"This is innovation at its most direct and effective."