A Bristol business developing smartphone software that can easily detect eye diseases has received £225,000 in growth funding from a group of established city-based entrepreneurs.
Technology being developed by OKKO is creating new sets of big data about vision which could soon lead to new insights into visual health, including allowing people to monitor their eyesight themselves using their own phone.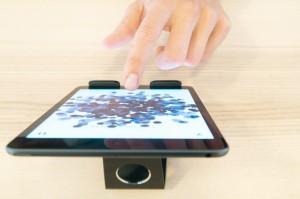 Early detection and prompt treatment of eye disease massively reduces costs and could saves the sight for countless patients.
Co-founder Dr Stephanie Campbell said: "Like many hospital services, eye departments are completely overstretched, and demand is far outstripping the supply of eye doctors and specialists.
"Currently, no reliable and safe home-monitoring technology exists, so all eye disease monitoring appointments must be done in person at the clinic.
"OKKO's smartphone technology will allow patients to safely home-monitor their sight and to avoid visits to hospital until necessary."
The funding, from 13 members of the Bristol Private Equity Club (BPEC), will allow the team at OKKO to take the technology through early clinical testing as well as continuing to build its team.
BPEC was founded in 2016 and now has 85 members who, as successful entrepreneurs and businesspeople, have capital to invest. In three years it has put more than £6m into 20 businesses from in and around the city.
BPEC founder Jerry Barnes said: "Our members are keen to support innovation and technology in Bristol and to help businesses with a great idea to scale up. The fact that 13 experienced businesspeople with a lifetime of success behind them have backed OKKO speaks for itself.
"Stephanie and her team have both a brilliant and practical idea and are working hard to make their technology product a reality in a tough market. It shows how Bristol is a pioneering city when it comes to the use of technology.
"Digital health is receiving huge global investment at present, and we're delighted to invest in a start-up focussed in one of the fastest growing areas of medicine."
Cook Corporate Solicitors acted for BPEC in the deal.