Bristol-based Triodos Renewables has launched a fund to help communities across the UK make shared public buildings more sustainable.
The fund, which is administered in collaboration with independent national charity the Centre for Sustainable Energy (CSE), is available for community buildings near to their 15 renewable energy projects, including its Avonmouth wind farm.
Triodos Renewables, which this year celebrates its 20th anniversary, aims to benefit communities around the sites and to raise awareness of renewable energy and energy efficiency through the scheme.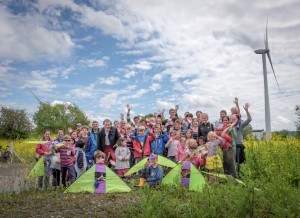 The fund allows community building owners and managers to apply for advice and funding to implement energy saving and clean energy generation measures in their buildings – including village halls, church rooms, and the like.
Up to £4,000 will be available per project to make changes such as installing LED lighting, insulation, draught-proofing, improved heating or lighting controls.
There will also be an option to use the funding for selected professional advice leading to long-term improvements in energy efficiency while CSE will be providing templates, guidance and home energy efficiency advice to householders in the local community.
Triodos Renewables operations manager Adrian Warman said: "We are now able to offer communities up and down the country the opportunity to make substantial and important improvements to buildings they care about.
"We think it's vital to be connected to the communities that we operate in and to open up dialogue. We're looking forward to receiving applications and seeing what difference we can make."
CSE head of development Janine Michael added: "Community buildings and shared spaces of all kinds can host all sorts of activities and be a valuable asset for the neighbourhood.
"But all too often they are underused because they're cold, damp or draughty, or because the heating and lighting costs are too high. It can cost relatively little to make significant improvements, but finding the money can be difficult."
Triodos Renewables has hosted two family open days at its Avonmouth wind farm, opening up the turbines and encouraging the local community to find out more about wind energy.
Triodos Renewables invest in projects that generate clean, green electricity and work with many leading companies in the sustainable energy sector. Its shareholders are part of a growing movement to tackle climate change.
Originally called The Wind Fund, it was set up by Bristol-based ethical bank Triodos to stimulate and drive development of new renewable energy projects in the UK.