Bristol creative agency and video games marketing specialist Diva has opened a new studio space in central Bristol after outgrowing its Queen Square head office.
The 4,000 sq ft of loft-style workspace on St Thomas Lane, Redcliffe, will provide additional capacity for its fast-growing creative and client services teams.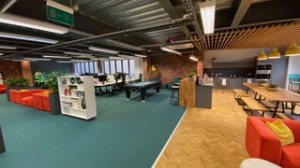 Diva, which works in the entertainment, leisure, sport, videogames and fast-moving consumer goods markets, has developed long-standing relationships with the world's biggest and best-known gaming brands.
Since being launched 12 years ago by Suzy and Andy Barnes, it has produced award-winning campaigns for major client brands including 2k Games, Activision Blizzard, Bandai Namco, Bethesda, Call of Duty, Curve Digital, Sony Interactive Entertainment, PlayStation, Turtle Beach, Ubisoft and Warchild.
Year-on-year growth of 40% for the past three years means it now employs 30 designers, creatives, developers and digital marketeers.
Managing director Andy Barnes said its growth had not only further expanded its footprint in the video games sector, but meant it also quickly outgrew its studio in the process.
"The new studio is in a fantastic location in Redcliffe, near to the waterfront and to the station, and it offers our creative teams much improved collaborative workspaces and client meeting spaces," he said.
The new space boasts a large open-plan studio as well as a new video editing and gaming suite, formal meeting rooms and informal break-out spaces, a library for quieter working, a large social kitchen-dining area and a dedicated client services suite.
The new studio opens just weeks after Suzy and Andy incorporated a new agency hub, Diva EU in Amsterdam, to bolster the company's existing global creative service offering with a physical footprint in the European Union.
Diva's reputation in the video games sector led to it being crowned Creative Agency of the Year 2019 at the industry's red-carpet style MCV Awards this year.
Diva's head office will remain in Queen Square.