Thatchers Zero, the North Somerset cidermaker's first alcohol-free cider, has been named as the UK's best 'no or low' drink in its category at a major industry awards scheme – despite only being launched six months ago.
Family-owned Thatchers – best known for its Thatchers Gold brand – took two years to develop Zero. The company wanted to ensure its taste, depth and appearance would appeal to the growing number of drinkers – including those whose favourite tipple is cider – who are turning to no or low-alcohol drinks.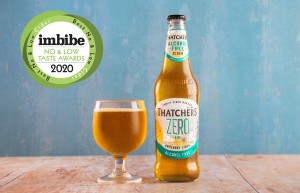 The firm said it uses a unique production process, which means it is able to create an alcohol-free cider that does not compromise on quality – and "offers the premium experience people are looking for when enjoying a Thatchers cider".
The result earned Zero the title of best cider in the No and Low Taste Awards staged by drinks industry magazine Imbibe.
The awards were launched to reflect the quality and range of products in what has become a significant sector of the drinks industry in recent times – one that has grown during lockdown and is predicted to continue to grow in the years to come.
Around 150 drinks were nominated for awards, including no or low-alcohol beers, spirits and wines.
The judges called Zero "drinkable and refreshing" while Thatchers itself describes it as "full of appley aromas and crisp refreshment".
The cidermaker goes on to say in its marketing material: "With a beautifully bright, golden appearance, crisp, medium dry taste, and fruity aroma, Zero is crafted using a selection of Thatchers' favourite bittersweet apple varieties, creating a 0.0% cider with body, smoothness and character."
Zero is available from high street retailers including Sainsbury's and Co-op and from specialist retailers including Dry Drinker and Wise Bartender as well as and from Thatchers itself.
Thatchers produces Zero at its Myrtle Farm base in Sandford, near Weston-super-Mare, where it has been crafting cider since 1904 using a wide range of locally grown apple varieties.
As with all other ciders in its range, Thatchers Zero is gluten free and is suitable for vegetarians and vegans.