A Bristol-based entrepreneur is to create a new online marketplace where experiences such as art classes, drone flying and wild cookery courses at city venues can be booked or sent as gifts.
Yuup, which launches next month, is the brainchild of Dominic Mills, a former director at Bristol-based digital agency Zone.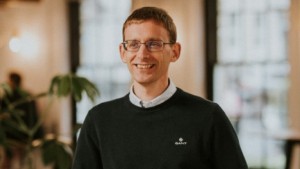 He forecasts that Yuup, which will start with 100 experiences, will in its first year inject £1.1m into the local economy and create 125 jobs.
He has enlisted some of his alumni to become part of the Yuup founding team and invest in it to support the launch and develop to have 500 experiences live within the first 12 months
Dominic, pictured, said Yuup was born from his own experience during lockdown and fuelled from a desire to support small businesses, solopreneurs and creative and innovative people with a passion they want to turn into an income stream.
The business' goal is for more than 90% of its experiences to be run by Bristol-based independents and people sharing a skill or a side hustle.
It will be working with community-led partnerships to ensure the experiences offered are inclusive of the city's rich and diverse culture.
Dominic said: "Everyone knows there's so many amazing things to experience in Bristol – from arts and craft, to food and drink and sports and adventure. But there wasn't a resource where you could easily find it all and book (or gift) in one place.
"Yuup is a new, sustainable and mutually beneficial way to support the local economy and it couldn't be easier – anyone can go onto the marketplace and book or gift an experience from September 21.
"The events of this year have been really hard on everyone, with many small businesses within the city feeling the full brunt of the Covid-19 pandemic on their bottom lines."
He said he and his team believe Yuup will be a true force for good, enabling small and microbusinesses to unlock a whole host of new opportunities to help bolster their revenue streams.
"At the same time, following months of being under lockdown, what could be better for local people than the opportunity to get out and try something new in the city," he added.
Yuup has been designed and developed by people in the city and, according to Dominic, takes the Bristol circular economy very seriously.
He said all experiences have been carefully thought through to ensure they are Covid-19 safe, taking place in small, socially distanced groups that make for a great personalised activity. Among experiences already signed up are making an upcycled firepit or barbecue, weaving your own wall hanging, cooking Thai street food and learning how to fly a drone.