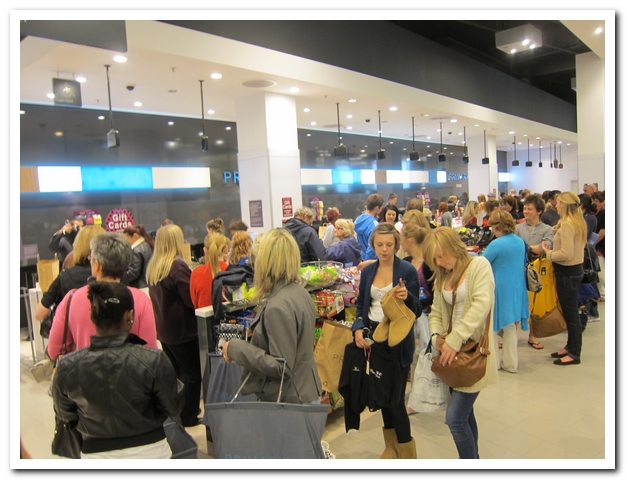 Every Friday Bristol Business News ends the week with an analysis of a key area of recent business news. This week we look at what's in store for the city's retail sector in the run up to Christmas.
Bristol's top two retail destinations, Cabot Circus and The Mall at Cribbs Causeway, expect to be fully let for what they hope will be a strong end to a tough year.
Both centres are optimistic as the annual Christmas shopping frenzy starts – and they see no signs that consumers are cutting back on present buying despite the dire state of the economy, and the fact that inflation is outstripping wage rises.
The upbeat mood at both centres contrasts with the national picture, with a recent CBI survey showing that Britain's shopkeepers expect only "very modest" growth in the run-up to Christmas.
Nationally, retail sales fell in the year to October at a similar pace to August and September, according to the CBI's respected Monthly Distributive Trades Survey. Its chief economic adviser Ian McCafferty summed up the challenges in the sector: "High street sales remain difficult but the decline has stabilised.
"Retailers are heavily discounting as they aim to provide the best possible value on basics but consumers will continue on the back foot as real incomes remain squeezed."
For analyst Howard Archer at IHS Global Insight, the survey results were slightly better than expected, though he said they still indicated a "reluctant" consumer.
"While retailers are hoping that there may be modest growth in retail sales in November, it remains hard to be optimistic about the prospects for consumer spending in the near term at least given sharply squeezed purchasing power, mounting unemployment, depressed confidence and a moribund housing market," he said.
"Retailers will be desperately hoping that consumers will decide to put their troubles to one side and loosen their purse strings to have a good Christmas!"
In Bristol, however, Cabot Circus centre director Kevin Duffy is more confident. "Cabot Circus has demonstrated a robust performance over the past year and the picture remains broadly positive," he said. "Overall, our tenants have reported positive sales growth since the beginning of 2011 which is an excellent achievement considering the economic environment."
Cabot Circus, which has more than 120 shops, two department stores, several restaurants, a 13-screen cinema complex, is already teeming with Christmas shoppers – which in turn is attracting new retailers.
"Ninety seven per cent of our units are currently let and we continue to see strong demand from quality retailers looking for the right space, in the right location," said Mr Duffy.
A number of 'pop-up' stores will open in Cabot Circus and Quakers Friars for the Christmas period, including a Harvey Nichols Foodmarket while a number of galleries will showcase local artists and design talent. This should mean that Cabot Circus is fully let by Christmas.
It is much the same picture out of town at The Mall at Cribbs Causeway, according to David Mace, senior regional director at property consultants GVA, which has been involved with the retail destination's development since inception.
He said: "There are 135 shops at The Mall between the two anchor stores, John Lewis and Marks & Spencer and it is bearing up well with just three empty shops, all of which we will have trading by Christmas.
"As consumer spending tightens, many retailers have polarised their requirements towards the major high street and shopping centre locations both in town and out of town."
The Mall falls into this category and has the added advantage of drawing on a wide regional catchment area, he says. The retail sector has also seen a 'flight to quality' and The Mall has been particularly successful in attracting high-end brand names such as Hobbs, Hugo Boss, Kurt Geiger and Radley, which are particularly attracted by the draw of trading alongside John Lewis.
The Mall has worked with a number of its existing tenants, such as Next and Austin Reed, to upsize their stores, which again reflects the trading success and confidence felt by the retail sector at this regional destination, said Mr Mace.
So will Broadmead have such a good Christmas as neighbouring Cabot Circus and The Mall? Destination Bristol operations director John Hirst said: "The massive investment which was completed in 2008 – with the modernisation of Broadmead and obviously Cabot Circus – is paying off. We have elevated Bristol city centre shopping into the premier league of shopping destinations in the UK."
He points to the major success of Primark and the way it has become, in his words, "a massive magnet for people in this region".
"Primark has obviously been a huge shot in the arm in terms of bringing additional footfall to the area," he said.
However, he concedes that there are several empty units in Union Street and the Arcade although there are plans to address both areas next year.
The Galleries – formerly The Mall Bristol – is also struggling with some empty units. The centre, which was sold by Capital & Regional and Aviva's Mall fund in January to HSBC European Active Real Estate Trust for £50.1m is shortly to announce major refurbishment plans.
As for the remainder of Broadmead, according to John Hirst "it is in great shape when compared to where we were some years ago and versus other centres in this region".
He added: "We are very encouraged that we are still attracting investment during this difficult financial period. This is against the trend and ensures that we are maintaining our much improved position in the national retail league table."