Bristol-based online ethical food retailer Fresh-range plans to triple sales to around £1m by the end of this year as demand continues to grow rapidly.
The firm, founded in 2014 by Bristol entrepreneur Rich Osborn, pictured, is scaling fast after gaining new investment. It hit its crowdfunding target of £300,000 in just 24 hours in exchange for a 7.99% equity stake earlier this summer and, to gain further growth, has now launched a further investment opportunity up to a total of £550,000 for nearly 15%.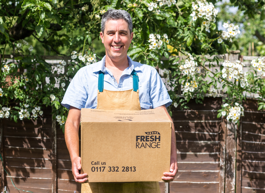 The online retailer is shortening the journey of food between producer and consumer, providing transparent provenance on food and making sure that everyone gets a fair deal. 
Fresh-range offers freshly produced, locally sourced, award-winning produce in sustainable packaging, delivered direct from producers to the door, ensuring fewer food miles, and fairer prices for customers and producers. The company's purpose is to develop food security for generations to come.
The new investment will help fund ambitious customer expansion plans to deliver fresh local seasonal food to more consumers, restaurants, schools, catering companies and councils in Bristol, Bath and surrounding areas.
Its ground-breaking technology and logistics infrastructure have been created by a team of software architects, designers and developers to serve both retailer and catering channels. Having piloted in the South West, it plans to roll out its offering across the UK, buying directly from local farmers, fisherman, makers and bakers. 
Founder and CEO Richard Osborn is passionate about food and is responsible for developing the new business model. He was previously a commercial director at Procter & Gamble, where he was responsible for a £850m business operating in 22 countries across Europe and Asia.  
He said: "We're on a mission. We believe local, fresh, seasonal food should be available to all at an accessible price. That's why we've created a new kind of food company – with short, light and fast supply chains to deliver the best local producers have to offer direct to the consumer.
"There's great potential in the market and we are inviting people who share our vision for fresher, locally sourced food, to join us on our mission to change the food industry for good, and become part of our success story."
One investor, Mark Blandford of Valhalla Investments, said: "I love the market opportunity for home-delivered fresh food with full traceability. Fresh-range has a great team to deliver on a savvy but realistic business plan."
Mark is one of the founders of the online gaming industry. His company Sportingbet reached a market capitalisation in excess of £2bn in the 1990s. In 2007 he founded Valhalla Investments and is a widely followed successful investor.
Also investing is Tim Price, co-manager of VT Price Value Portfolio and discretionary asset manager. He added: "The best investment strategy is always to identify high-quality businesses with an exceptional management team. I am delighted to have invested in fresh-range, a business which strikes me as having great potential."
The latest investment opportunity is available on seedrs.com. It closes on September 20.