The Bristol office of international built environment consultancy RPS Group has appointed James Stone as its new director.
James, pictured, has extensive experience in the South West commercial property market. He joins from global engineering and development consultancy Mott Macdonald, where he led its Bristol-based team.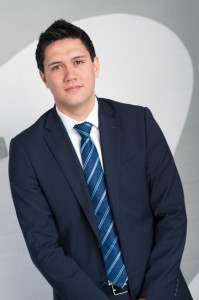 Specialising in project and commercial management, James has 10 years' experience in the industry and has built a strong reputation and portfolio of projects in across the region.
He joins RPS' project management and quantity surveying division, previously DBK, which was acquired by RPS in 2016 and had an office in Bristol. The division provides cost and building consultancy services throughout the process of projects across a number of sectors.
Its services include project planning, procurement, design and delivery and providing expert advice to clients in both the public and private sectors on how to achieve the best balance of time, cost and quality.
The RPS group offers multi-disciplinary services to organisations working in sectors across the real estate industry including planning, architecture, transport, environmental, project and cost management, heritage and sustainability.
The group has nearly 40 offices across the UK, including in Aztec West and Clevedon. In total it employs more than 5,000 staff across 125 countries, including 2,000 in the UK.
James said: "Bristol and the wider South West region continue to see investment and development across all facets of the real estate industry, providing a host of opportunities to engage with projects at different stages of the property cycle."
He said through its acquisition of DBK, RPS had enhanced its position as the go-to firm for project and commercial management in the country – making it the perfect time to ensure a strong presence in the region.
"We are very fortunate to be able to draw on RPS' vast experience in the commercial sector, which will be crucial in creating a client-focussed approach," he added.
RPS managing director Tim Downing said: "We are constantly looking for the very best people to join our organisation and ensure that we are able to deliver top-tier services for our clients. James joins us with a significant level of experience in this market and I am looking forward to seeing him drive forward our presence in the south west region."