Financial dealmaking business GS Verde Group has appointed Lauren Couch as a corporate finance director in its growing Bristol team.
The office, which opened last year, services the South West and has developed a growing pipeline of transactions, which makes the appointment timely.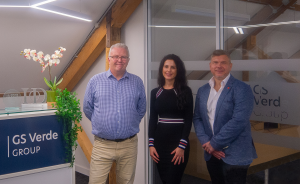 Cardiff-headquartered group, which includes law firm Greenaway Scott, corporate finance boutique Verde Corporate Finance and patent attorney business Alchemie IP, specialises in mergers and acquisition advice, corporate law, commercial contracts, intellectual property, commercial property and corporate finance advisory.
Lauren. pictured with corporate finance associate director Mike Fenwick and chief financial officer Craig Blackmore, is joining from Growth Lending (formerly called Boost Capital), where she was the chief revenue officer responsible for maximising profit through revenue growth, pioneering strategy, enhancing client experience and being a national spokesperson for the business.
She has more than 20 years' experience in finance and has previously held leadership roles within the banking and finance sector. The roles have specialised in private equity, venture debt, asset-based lending, and invoice financing.
She spent nearly eight years at RBS as a corporate relationship director before joining BGF as an investor. After just over a year she left to set up the South division of BOOST&Co based in Bristol.
Lauren said: "I'm looking forward to joining such an ambitious business, and excited to be a part of the group's amazing growth, particularly as they experience continuous growth in Bristol, the South West and throughout the UK and Ireland.
"It is evident that expert assistance and a fresh approach to business transactions is needed for business leaders to grow their business today. GS Verde Group's dynamic and modern, multi-discipline approach to deal-making fills that gap in the market and answers that need for a holistic, end-to-end service."
GS Verde Group chief financial officer Craig Blackmore said Lauren's appointment illustrated the groups' commitment to its core values by attracting like-minded, innovative talent, and signals a bright future for the Group as Lauren brings her expertise and creativity to the business.
"Lauren's ambitious, innovative mindset reflect the values of GS Verde Group as a dynamic, successful multi-discipline business and we are excited to see how Lauren's expertise and valuable skills will aid in the continuous growth of GS Verde Group," he added.