Aerospace Bristol, the museum that celebrates the city's world-class aviation heritage and houses the last Concorde to fly – has appointed Sally Cordwell as its new CEO.
Sally, pictured, brings significant experience of senior leadership roles in visitor attractions and culture venues in Bristol and the South West, including as interim executive director at Bristol Old Vic theatre and as deputy CEO at SS Great Britain Trust.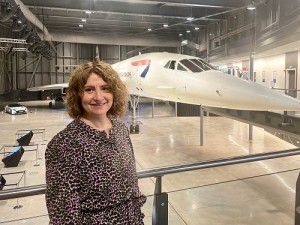 She becomes only the second person to have the role since the museum opened at Filton in 2017.
Aerospace Bristol has since established itself as one of the region's most popular visitor attractions, and a leading corporate venue and school outing destination with Concorde as its star attraction.
Sally's appointment comes as Aerospace Bristol welcomes back visitors following Covid-related closures that had put its future in real jeopardy.
The museum tells the story Bristol's illustrious aviation heritage, with the last Concorde to fly as centrepiece.
The plane touched down at Filton – where all British Concordes were built and made their maiden flights – for the final time in November 2003.
Visitors to the museum are able to step on board the famous supersonic passenger jet, explore more than a century of aerospace achievements, and watch as Bristol aircraft are restored in the museum's new conservation workshop.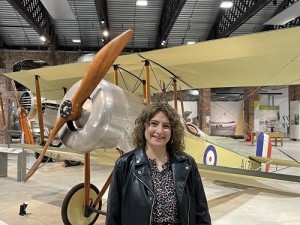 Aerospace Bristol is operated by Bristol Aero Collection Trust, a registered charity that aims to inspire the next generation of engineers through its STEM & local history learning programme for schools and fun family events, activities and days out at the museum.
Sally, who replaces executive director Lloyd Burnell as CEO, said: "I'm thrilled to join Aerospace Bristol as its new CEO at this exciting time, as the museum celebrates its fifth anniversary and, following a hugely challenging period, once again looks ahead with optimism and enthusiasm.
"Bristol's world-class aerospace heritage – and the unique collection of objects and exhibitions on display at Aerospace Bristol – presents us with so many opportunities to share remarkable stories, celebrate our local history, preserve Bristol's aerospace heritage and inspire future generations. I can't wait to get started."
Bristol Aero Collection Trust Chair Iain Gray CBE, the former managing director and general manager of Airbus UK who was instrumental in setting up Aerospace Bristol, added: "On behalf of everyone at Bristol Aero Collection Trust, I'm truly delighted to welcome Sally Cordwell as the new chief executive officer of our museum, Aerospace Bristol.
"Sally's predecessor Lloyd Burnell did a remarkable job of leading Aerospace Bristol through its development and launch, successfully securing vital funding and getting Aerospace Bristol off the ground, and navigating the unexpected and unprecedented challenges of the pandemic.
"We are enormously grateful for everything Lloyd achieved in his 13 years at Aerospace Bristol and we wish him all the very best for the future.
"I have no doubt that our new CEO will continue this success and that Aerospace Bristol will go from strength to strength.
"The museum will benefit enormously from Sally's significant experience, keen enthusiasm, and positive vision, as we look ahead to the exciting next phase of Aerospace Bristol's journey."