National law firm Foot Anstey's Bristol office has led the congratulations for Emily Haberfield, the fundraising and marketing executive of city-based boxing charity Empire Fighting Chance, who has completed her 13-month apprentice diploma course.
Emily, pictured, passed her level three apprenticeship, achieving a distinction in pitch and presentation for her Diploma in Fundraising.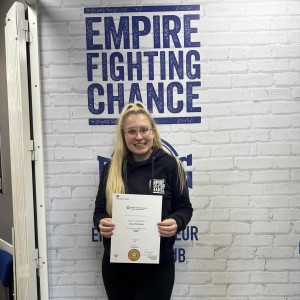 Foot Anstey, a long-standing supporter of the charity, supported Emily through its unused Apprenticeship Levy funds, worth around £8,000.
Emily, a boxer herself and an advocate for young people's mental health, joined the Empire team in February 2020 fresh out of university and faced with the challenge of fundraising while the pandemic was at its peak.
As fundraising events were cancelled, Emily spearheaded virtual activity to bring in much-needed cash, which achieved the charity's biggest ever match-funding campaign, netting more than £20,000 through the Big Give Christmas Campaign.
Empire Fighting Chance's mission is to fight the impact of deprivation on the lives of people. It uses a powerful combination of non-contact boxing and intensive personal support to challenge and inspire young people to realise their unique potential.
Foot Anstey partner Nathan Peacey, pictured below, said: "It is fantastic news that Emily has passed her apprenticeship with flying colours!
"It was a no-brainer when Empire approached us to support Emily's diploma. We pride ourselves on supporting local initiatives and charities and we look forward to working with Empire in the future and watching Emily advance in her career."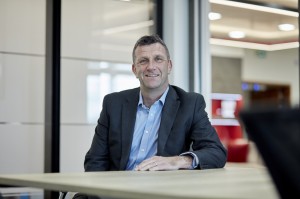 In 2022 Foot Anstey worked with Empire Fighting Chance to donate 70 laptops to five charities based near its offices across the South and South West.
That followed a successful initiative the previous year when the firm donated 50 laptops to Empire Fighting Chance and its partner organisation Plymouth Hope, as well as City Academy in Bristol and Syrian refugees in the city.
Empire Fighting Chance head of fundraising Joanna Le Vannais added: "Emily has worked incredibly hard over the last 13 months, writing around 46,000 words for her learning portfolio, attending seminars, 121 sessions and undertaking assessments.
"All while still delivering her day job to a high standard which included realising our biggest ever fundraiser with The October Club.
"I am really proud of everything Emily has achieved over the past year and the positive feedback she has received from the course assessor.
"Thank you so much to Foot Anstey for this amazing opportunity. Emily found it incredibly useful and rewarding and I know that not only Emily, but Empire Fighting Chance will continue to reap the benefits of this development over the coming years."
Foot Anstey, which has offices in Exeter, London, Plymouth, Southampton, Taunton and Truro as well as Bristol, advises clients in sectors spanning development, energy and infrastructure to Islamic finance and retail and consumer.