The first businesses have signed up to support Bristol Giving Day, a new fundraising event aimed at boosting the coffers of some of the thousands of local charities and good causes across the city.
Hosted by Quartet Community Foundation, the independent charity that works across the West of England to support local philanthropists in their charitable giving, Bristol Giving Day takes place on October 10.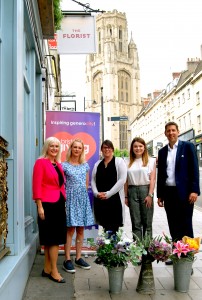 Bristol Giving Day will be the first of its kind to take place in the city and will give businesses the chance to show they care about local disadvantaged people by staging a huge range of fundraising events
The first to become involved was Park Street cocktail bar and restaurant The Florist. It has since been followed by Bank of Ireland UK, law firm Burges Salmon and student accommodation group Unite.
Ideas already being suggested include a sponsored Hawaiian shirt day at work to abseiling down office buildings. Staff at companies of all sizes are using their imagination to come up with ideas to 'inspire generocity'. 
The money raised will be used to help people like Miss M – a woman in her 60s with severe mental health issues who spent six months scavenging out of waste bins to survive because she had no income and no-one to support her.
Thanks to a grant from Quartet Community Foundation, Age UK Bristol provided her with food, heating and support and stopped her from being evicted.   
Quartet Community Foundation chief executive Sue Turner said: "Thousands of small charities, voluntary organisations and community groups across Bristol spend less than £10,000 a year on the fantastic work they do for disadvantaged local people. 
"They have no marketing or fundraising departments so they can't appeal to the public for funds to support them. We've created the first ever Bristol Giving Day to give these local heroes a fair chance of getting support from our city's generous businesses and their staff. 
"We're delighted that The Florist is using their flower power to help people and are the first to sign up to do something fun and raise money for local good causes on Bristol Giving Day."
The Florist sales manager Christy Greaves added: "We are delighted to be involved in Bristol Giving Day – an incredible event where we hope to show off the generous spirit of our city!"
Quartet Community Foundation was formed in 1987 and has since distributed more than £46m to good causes in line with its mission to help give everyone across the West of England a fair chance of a good life.
Businesses can sign up to Bristol Giving Day via the website www.bristolgivingday.co.uk which also includes helpful activity ideas and downloadable branding material.
For more inspirational stories of lives changed through 'inspiring generocity' visit https://quartetcf.org.uk/stories/ 
Pictured outside The Florist on Park Street are, from left: Sue Turner of Quartet Community Foundation, Christy Greaves from The Florist, Allison Parkes-Norris of Unite Students, Erin Welch from Bank of Ireland UK and  Jamie Cameron of Burges Salmon