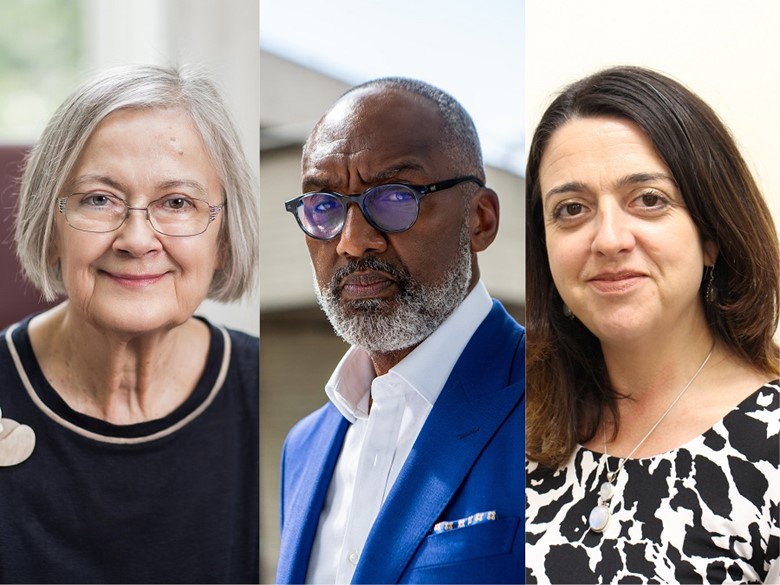 Baroness Hale, the former president of the Supreme Court, has been named as a speaker at a high-profile event in Bristol later this year which aims to shine a light on the impact of human rights change makers in legal justice and equality.
Also lined up to speak is Leroy Logan, one of the UK's most highly decorated and well-known Black police officers, while other high-profile and inspirational speakers will be announced soon.
The flagship event, titled A Lifetime for Justice, has been launched by the High Sheriff of Bristol, Alex Raikes MBE DL.
Taking place in the University of Bristol's Wills Memorial Hall on 30 November and compered by TV presenter Sherrie Eugene-Hart, it will showcase the criminal and legal justice system for those who may not know much about it.
Alex Raikes, who is also strategic director at Bristol-based Stand Against Racism & Inequality (SARI), hopes the event will emphasise the importance of the criminal and legal justice system, its power and weaknesses, the passion and commitment of many within it, and why it needs to be made up of the diverse society it serves.
She said: "Every meaningful step towards a fairer legal system, towards improved human rights, has been pre-empted by ordinary citizens with fire in their bellies.
"People who have been unwavering and persistent and relentless in their quest for a fairer society. Often fuelled by their own experiences of brutal injustice, these are the people who have pledged their life to justice. They have given a lifetime for justice.
"I want to look at how I bring my 30 years' experience of working for SARI so I can utilise the role to promote equality and tackle disproportionality and injustice – including hate crime and discrimination – across the criminal justice system.
"Each High Sheriff brings their own unique stance and priorities. My aim is about making the role more accessible to those with less means and more relevant to the diverse communities I serve."
The University of Bristol Law School is a partner of the event and will run a session to bring justice to life for students from across the city earlier in the day.
Head of the Law School Prof Ken Oliphant said: "As educators, we are in a privileged position to inspire a new generation of lawmakers and instil a belief within every student that they have the power to shape the future.
"To make real change happen, to truly strive for a more just society, we need voices from every walk of life, from individuals with real life experiences of the issues we're trying to overcome.
"We need them in our lecture halls, influencing our research and making noise within the criminal and justice systems and beyond.
"This is an ambition we are already bringing to life for many young people who previously felt that a university education was an impossible dream. It is an ambition we are proud to share with the High Sheriff."
Lady Hale was president of the UK Supreme Court from 2017 until her retirement in 2020 and serves as a member of the House of Lords as a Lord Temporal.
She became the first female law lord in 2004, serving in that role until 2009 when she, along with the other Law Lords, transferred to the new Supreme Court as a result of the Constitutional Reform Act 2005.
Four years later she became the first woman to serve on the UK's new supreme court and in 2017 became its first woman president.
She is probably best known for delivering the Supreme Court's verdict in 2019 that Prime Minister Boris Johnson acted unlawfully when he advised the Queen to suspend Parliament – a televised appearance during which she famously wore a huge silver spider brooch.
A Lifetime for Justice is being organised in collaboration with The University of Bristol, Bristol Ideas and People & Cities, whose director is First High Sheriff of The County and City of Bristol and former Mayor George Ferguson CBE.
He said: "I have followed the work of SARI over the past 20 years, and was privileged to work with Alex Raikes on some shocking hate crime cases during my time as mayor.
"I know how much Alex cares about fairness and inclusion and it is a pleasure to be able to support this extremely worthwhile initiative."
The event is also supported by UWE Bristol, Avon and Somerset Police, and the Police and Crime Commissioner for Avon and Somerset, while community partners include Bristol-headquartered law firms VWV and Burges Salmon, Business West and Clifton College.
The event will take from 5:30pm to 9:45pm. Bookings are now open at www.bristolideas.co.uk/attend/lifetime-for-justice
Proceeds from ticket sales will go towards Bristol Youth and Community Action (BYCA), which supports groups providing physical and creative activities for 8-12 year-olds during school holidays in the communities with greatest need.
BYCA is chaired by the High Sheriff of Bristol and funded from the High Sheriff's Fund. https://quartetcf.org.uk/grants/bycag-holiday-2/
Pictured, top, from left: Lady Hale, Leroy Logan and Alex Raikes
Image of Lady Hale by Mat Smith